The DeLonghi Portable Air Conditioner not evaporating water issue can be resolved by checking the condensate tray, drain hose and air filter. First, make sure the condensate tray is empty and free of any blockage. Then disconnect the drain hose from the unit and ensure it is free of any debris or clogs.

If necessary, replace with a new one. Lastly, check that the air filter is clean to allow for maximum airflow and efficient cooling performance. If all these components are in good condition then contact DeLonghi customer service for more help on resolving this issue.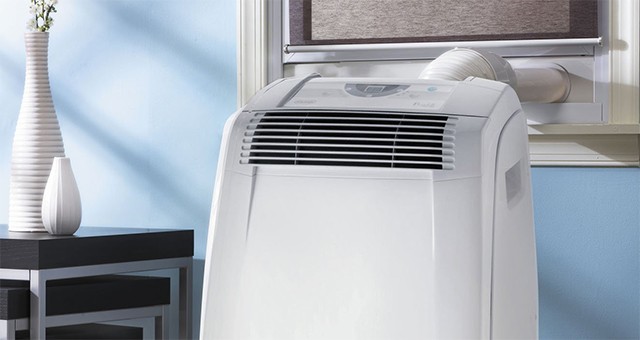 Why is My Portable Air Conditioner Not Draining Water?
There are several reasons why your portable air conditioner might not be draining water. These could include:
• Clogged drain lines – If the condensate line is clogged, water cannot pass through and will back up in the unit.

• Malfunctioning pump – A broken or malfunctioning pump may cause a blockage in the drainage system. • Blocked filter – The filter is responsible for filtering out dirt and debris that can cause blockages in the drain line. • Low refrigerant levels- Low levels of refrigerant may reduce cooling efficiency and lead to excessive amounts of condensed moisture that cannot be drained off quickly enough.

To solve this issue, you should check each of these components thoroughly to determine which one is causing the problem before attempting any repairs or maintenance on your portable air conditioner.
Why Does My Portable Air Conditioner Keep Filling Up With Water?
A portable air conditioner collects water as it cools the warm air from a room. This is normal and part of the cooling process. Reasons why your portable AC unit may be filling up with too much water:

• Dirty Air Filter – A blocked filter can cause the evaporator to ice over, reducing airflow and causing excess condensation. • Improper Drain Pipe – If the drain pipe isn't properly connected or positioned, it can cause an overflow of condensed water. • Low Refrigerant Levels – Low refrigerant levels reduce efficiency, resulting in more condensation occurring than usual.

To prevent excessive moisture buildup, regularly clean your filters, check that your drain hose is installed correctly and ensure that your unit has sufficient refrigerant levels.
How Do I Get the Water Out of My Delonghi Air Conditioner?
To remove water from your Delonghi air conditioner, follow these steps: – Unplug the power cord and turn off the unit. – Drain the water tank or bucket located in the front of the unit.

– Detach any hoses connected to a drain pipe if you have one installed. – Use a wet vacuum cleaner to get rid of remaining moisture inside. – Reattach all parts and plug in your AC again when finished.

This should effectively remove excess water from your Delonghi air conditioning system.
How Does a Portable Air Conditioner Evaporate Water?
A portable air conditioner evaporates water using a condensation process. This involves: • Drawing in warm air from the room, which is then cooled and condensed by the cooling coils.

• The collected moisture is drained into a tank or reservoir located within the unit. • An internal fan circulates this warm, moist air over an evaporator coil to cool it further before releasing it back into the room as cool and dry air. This cycle of evaporation helps keep humidity levels low while providing your desired temperature level in any space.
Portable AC leaking water. Bad float or not level?
Conclusion
In conclusion, the Delonghi Portable Air Conditioner is a great product for those looking for an efficient and reliable cooling device. However, it does have some issues with evaporating water that can be difficult to troubleshoot. Fortunately, by following the steps outlined in this blog post, you should be able to identify and resolve any issues related to this problem so that your air conditioner can remain running smoothly.
{ "@context": "https://schema.org", "@type": "FAQPage", "mainEntity":[{"@type": "Question", "name": "Why is My Portable Air Conditioner Not Draining Water? ", "acceptedAnswer": { "@type": "Answer", "text": " There are several reasons why your portable air conditioner might not be draining water. These could include: • Clogged drain lines – If the condensate line is clogged, water cannot pass through and will back up in the unit. • Malfunctioning pump – A broken or malfunctioning pump may cause a blockage in the drainage system. • Blocked filter – The filter is responsible for filtering out dirt and debris that can cause blockages in the drain line. • Low refrigerant levels- Low levels of refrigerant may reduce cooling efficiency and lead to excessive amounts of condensed moisture that cannot be drained off quickly enough. To solve this issue, you should check each of these components thoroughly to determine which one is causing the problem before attempting any repairs or maintenance on your portable air conditioner." } } ,{"@type": "Question", "name": "Why Does My Portable Air Conditioner Keep Filling Up With Water? ", "acceptedAnswer": { "@type": "Answer", "text": " A portable air conditioner collects water as it cools the warm air from a room. This is normal and part of the cooling process. Reasons why your portable AC unit may be filling up with too much water: • Dirty Air Filter – A blocked filter can cause the evaporator to ice over, reducing airflow and causing excess condensation. • Improper Drain Pipe – If the drain pipe isn't properly connected or positioned, it can cause an overflow of condensed water. • Low Refrigerant Levels – Low refrigerant levels reduce efficiency, resulting in more condensation occurring than usual. To prevent excessive moisture buildup, regularly clean your filters, check that your drain hose is installed correctly and ensure that your unit has sufficient refrigerant levels." } } ,{"@type": "Question", "name": "How Do I Get the Water Out of My Delonghi Air Conditioner? ", "acceptedAnswer": { "@type": "Answer", "text": " To remove water from your Delonghi air conditioner, follow these steps: – Unplug the power cord and turn off the unit. – Drain the water tank or bucket located in the front of the unit. – Detach any hoses connected to a drain pipe if you have one installed. – Use a wet vacuum cleaner to get rid of remaining moisture inside. – Reattach all parts and plug in your AC again when finished. This should effectively remove excess water from your Delonghi air conditioning system." } } ,{"@type": "Question", "name": "How Does a Portable Air Conditioner Evaporate Water? ", "acceptedAnswer": { "@type": "Answer", "text": " A portable air conditioner evaporates water using a condensation process. This involves: • Drawing in warm air from the room, which is then cooled and condensed by the cooling coils. • The collected moisture is drained into a tank or reservoir located within the unit. • An internal fan circulates this warm, moist air over an evaporator coil to cool it further before releasing it back into the room as cool and dry air. This cycle of evaporation helps keep humidity levels low while providing your desired temperature level in any space." } } ] }