A Honeywell thermostat is a great choice for controlling the temperature in your home, but if it won't go above 70 degrees Fahrenheit (21 Celsius), you may have an issue.
It could be something as simple as needing to change the battery or recalibrate the device, or there might be a more serious problem with the wiring.
This article will help you find out the cause and fix it in no time!
Honeywell Thermostat Won't Go above 70
If your Honeywell thermostat won't go above 70, it is likely due to the temperature limit setting.
You can adjust this setting using the up and down arrows on your thermostat. To do this, press "Settings" and then select "System."

From there you will need to scroll down until you see "Heat/Cool Limit Set."
Once selected, use the up arrow key to increase the setpoint temperature of your thermostat.
Be sure to save any changes that you make by pressing the checkmark icon at the bottom right-hand corner of your screen before exiting out of settings.

If adjusting this does not resolve your issue, try resetting your thermostat or contact a professional technician for assistance.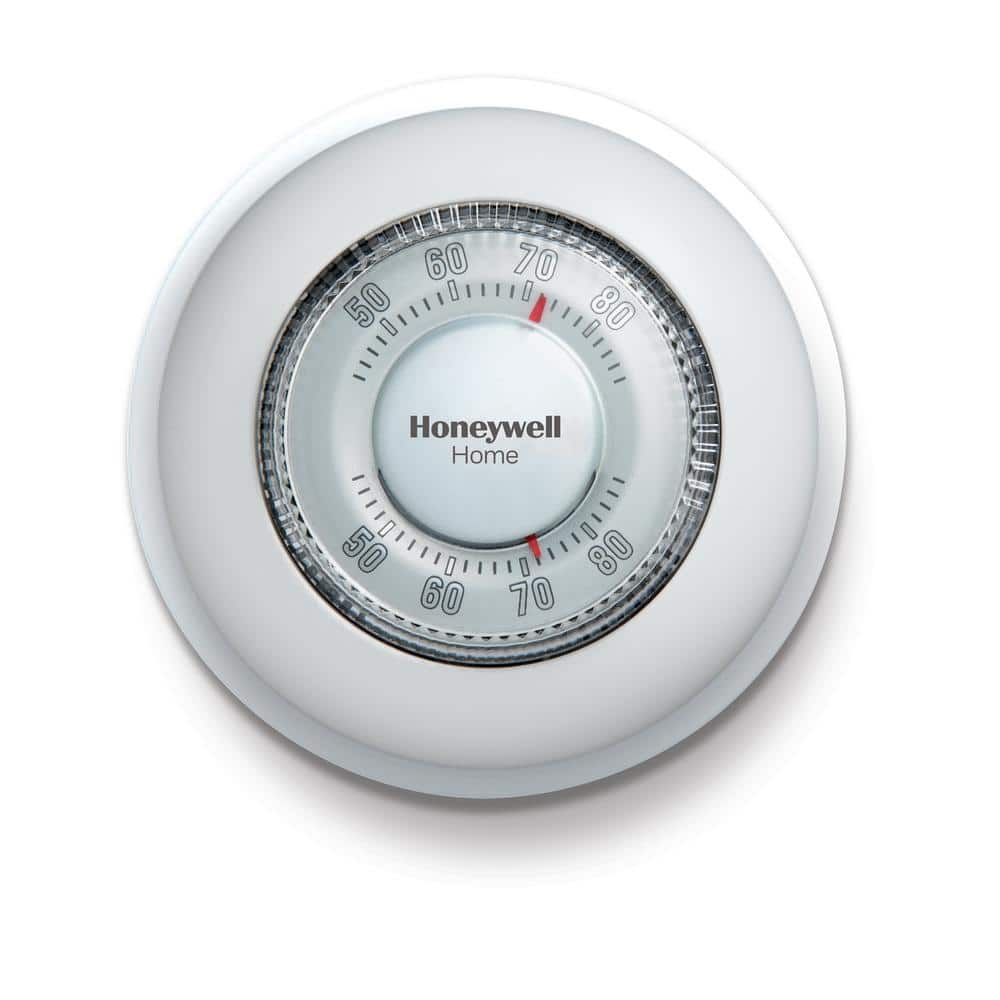 Credit: www.homedepot.com
Why Does My Thermostat Not Go above 70?
Thermostats are designed to regulate the temperature of your home, but if you notice that it will not go above 70 degrees, then there could be a few possible explanations.
First of all, check your thermostat settings and make sure they are set correctly.

There could be something wrong with either the heating system itself or the wiring associated with it – both problems can prevent your thermostat from reaching higher temperatures.
Another possibility is that your furnace has been improperly sized for its location – this means that even when running at full capacity, it simply cannot produce enough heat to reach beyond 70 degrees Fahrenheit.
Lastly, some older models of thermostats have built-in safety features that stop them from reaching certain temperatures; these units need to be replaced in order to get rid of this limitation.
Why didn't my Honeywell Thermostat Go Up?
If you have a Honeywell thermostat and it won't go up, there could be a few different reasons.
The first thing to check is if the batteries are low or dead – this could cause your thermostat to stop working, so make sure they're fresh and up-to-date.
If that doesn't solve the issue, try turning off power to the unit at the circuit breaker for 30 seconds before flipping it back on again; this can reset any glitches that may exist in its programming.

You should also make sure that all wires connected to your furnace are secure and functioning properly.
Lastly, if none of these solutions work, it's possible there's an issue with your furnace itself – contact a professional HVAC technician for help diagnosing and resolving the problem.
How Do I Bypass Honeywell Temperature Limiter?
If you have a Honeywell thermostat, chances are you may be wondering how to bypass the temperature limiter.
While it's not recommended to do this as it could affect the performance of your heating and cooling system, there are ways to go around it.
The first step is to locate the temperature limiter switch on your Honeywell thermostat; usually, this will be located near the bottom or back of the device.

Once located, simply turn off the switch and then manually adjust your desired temperature settings from within the menu options.
If you find that even after adjusting these settings, your device still won't allow for temperatures above its limit (which is typically set at 78 degrees Fahrenheit), then you may need to consult with a professional HVAC technician who can diagnose any potential issues with your thermostat or other components in your home's heating/cooling system before attempting further repairs on your own.
How Do I Unlock the Temperature on My Honeywell Thermostat?
If you're having trouble unlocking the temperature on your Honeywell thermostat, don't worry – it's a relatively simple process that only takes a few steps.
First, locate the "Set" button which is usually located in the middle of the device.
Once found, press and hold this button for about three seconds until you hear an audible tone or see a flashing light to indicate that it has been unlocked.

Next, use either the up/down arrows or buttons on either side of the Set button to increase or decrease temperature settings accordingly.
Lastly, once you have made your desired adjustments, press and hold the Set button again until you hear an audible tone or see another blinking light to confirm that your changes have been saved.
With these easy-to-follow instructions in hand, you'll be able to unlock and adjust your Honeywell thermostat with ease!
Honeywell Thermostat Won'T Go above 75
If your Honeywell thermostat won't go above 75 degrees Fahrenheit, it may be due to a safety feature built into the device.
This is known as "High-Temperature Limit Protection" and is designed to protect your home from extreme temperatures that could damage the system or cause discomfort.
You can adjust this setting by accessing the menu on your thermostat and adjusting the "high-limit temperature."

If you are still having trouble getting your thermostat to go above 75 degrees, contact a professional for help.
Honeywell Thermostat Won'T Go above 68
If your Honeywell thermostat won't go above 68 degrees, it is likely due to a few possible causes.
Firstly, the temperature limit feature may be activated, preventing you from setting temperatures higher than 68 degrees.
Additionally, there could be an issue with the wiring of your system or a malfunctioning part that is preventing your thermostat from heating beyond this point.

If you're unsure what's causing the problem, it's best to contact a qualified HVAC technician to troubleshoot and diagnose any issues with your thermostat.
Honeywell Thermostat Won'T Go below 72
If your Honeywell thermostat won't go below 72, it's likely due to the fact that you have reached the lower limit of the temperature range for your device.
To fix this issue, you can either try to adjust the settings on your thermostat or contact a professional who can help you reset it.
Additionally, make sure to check if any obstructions are blocking airflow near the thermostat and clean away any debris or dust so that it is able to accurately gauge temperatures in its vicinity.
Honeywell Pro Series Temperature Limit
The Honeywell Pro Series Temperature Limit is an advanced feature that allows you to set and maintain a specific temperature limit for your home or office.
This ensures maximum comfort and energy efficiency, as it can help prevent excessive heating or cooling of the space.
Additionally, this feature also provides added safety measures by preventing the thermostat from reaching temperatures above or below the preset limits.

By setting these temperature limits, you can rest assured that your environment will stay within comfortable ranges while saving money on energy bills in the process.
Honeywell Temperature Limiting Thermostat
Honeywell's Temperature Limiting Thermostat is an energy-efficient way to control your home's temperature.
This thermostat features a temperature limit stop that can be adjusted between 40 and 90 degrees Fahrenheit, allowing you to ensure the temperature in your home stays within a comfortable range while avoiding wasting energy from running too high or too low.
Additionally, its built-in display gives you easy access to programming so you can customize settings for different times of day or days of the week—allowing you to save even more money on your monthly bills.
How to Override Honeywell Thermostat?
If you need to override your Honeywell thermostat, it's fairly easy to do.
First, press the "System" button on the thermostat until you see a menu that says "Schedule".
Then select when you want to change the temperature by selecting either "Hold Temp" or "Vacation", depending on what type of override you are trying to accomplish.

Finally, enter the desired temperature and press "Done".
Your Honeywell thermostat is now set with an override for your desired time period!
How to Override Honeywell Thermostat in a Hotel?
Setting the temperature on a Honeywell thermostat in a hotel room can be tricky.
Fortunately, there is an override function that allows you to adjust the temperature as needed.
To use this feature, first, turn off the Auto mode by pressing "Off" on your thermostat and then press "Hold".

Then set your desired temperature and press "Hold" again.
This will keep the room at your chosen temperature until you manually change it or flip the switch back to auto mode.
Thermostat Won't Go below 70
If your thermostat won't go below 70 degrees, it could be due to a variety of reasons.
It could be because the AC unit is not powerful enough for the size of your room, or there may be an issue with the wiring in your home.
Additionally, if you have recently installed energy-efficient windows and doors on your home, they may be trapping too much heat inside which can stop the thermostat from going lower than 70 degrees.
Conclusion
In conclusion, it is important to troubleshoot a Honeywell thermostat if the temperature won't go above 70.
There are several potential causes for this issue, such as faulty wiring or a blocked filter.
It may also be necessary to check the settings on the thermostat and ensure that they are properly configured for optimal performance.

Ultimately, with some patience and by following these steps, you should be able to resolve any issues you have with your Honeywell thermostat not going above 70 degrees.