To connect a Midea air conditioner to your phone, you will first need to download the Midea Smart Home app from either the App Store or Google Play store. Open up the app and create an account using your email address. Once logged in, select 'Add Device' from the main menu.

You'll then be asked to enter information about your Wi-Fi network and input a code provided by the device on its display panel. After that's done, you can control all of your air conditioner functions through this app directly from your phone. This includes things such as temperature settings, fan speeds, modes and more!
Download the Midea Air Conditioner app – First, you need to download and install the official Midea Air Conditioner app on your mobile device
This can be done either through an app store or directly from the manufacturer's website
Connect Your Phone to Your Home Network – You'll then need to connect your phone to your home Wi-Fi network so that it is connected with your air conditioner unit
Make sure that you enter in all of the necessary details correctly for a successful connection
Login & Register – Once connected, open up the Midea AC App and login by entering in the username and password provided by the manufacturer during registration
If this is your first time using this app, then you will need to register as a new user at this point before proceeding further into connecting it with your air conditioner unit
Add Device – Tap on "Add Device" within the main menu of the application and select "Air Conditioners" option from there when prompted with various product types available under Midea brand name (e
g Washing Machines)
After selecting air conditioners, follow any remaining instructions given on screen such as searching for nearby devices etc
, until successfully adding it onto list of devices displayed within application dashboard page viewable upon logging in each time thereafter anytime one wants to access settings related options associated with their air conditioning system/unit installed at home location wise respectively!
How to Connect Midea Air Conditioner to Wifi
With a Midea air conditioner, you can connect it to your wifi network and control the settings from any mobile device. To do this, first download the Midea Home app on your smartphone or tablet. Once the app is installed, open it and follow the steps to connect your air conditioner to wifi.

You'll need to enter in information like your router's name and password as well as select which room of your house will be cooled by the unit. Once everything is set up correctly, you're ready to enjoy convenient access to cooling settings right from your phone or tablet!
Midea Air Conditioner Won'T Connect to Wifi
If your Midea air conditioner won't connect to wifi, first make sure that you have the correct network settings saved in both the AC and router. Be sure to check if your modem is set up properly as well. If these are all correct, try resetting the connection by unplugging both devices and then plugging them back in again.

Still having trouble? Contact customer service for assistance!
Midea Ac Ap Mode
Midea Ac Ap Mode is a unique feature of Midea air conditioners that allows you to conveniently keep your home or office comfortable all year round. It automatically adjusts the temperature according to the external environment, meaning no more manual adjustments from you! In addition, it can be adjusted remotely using the Midea app on your smartphone.

With this technology, not only will you stay cool during hot summer days but also warm on chilly winter nights – all without having to leave the comfort of your bed.
Midea Air Conditioner Control Panel Manual
Midea air conditioners are equipped with an easy-to-use control panel that allows you to customize your cooling experience. The Midea Air Conditioner Control Panel Manual is a comprehensive guide that outlines the features of the control panel, how to use them, and which functions to avoid. It also offers helpful troubleshooting tips in case you encounter any issues while using the unit.

By taking the time to read through this manual, you can ensure that your Midea air conditioner provides optimal comfort for years to come!
Midea Dehumidifier Wifi Setup
Setting up a Midea dehumidifier with wifi can be easy and hassle-free! All you need is your device, the Midea app, and an internet connection. First, download the app from either Google Play or Apple App Store on your device.

Then connect to your wifi network and open the app – it will guide you through the setup process in just a few simple steps. Once done, you'll have full control over all of your indoor air quality settings from anywhere!
Midea Air Conditioner App
Midea's Air Conditioner App is the perfect way to stay comfortable and cool in your home. The app allows you to control your air conditioner remotely, set a timer, receive alerts when temperatures reach certain levels, and even turn on the fan before you come home. With this convenient tool, you can easily adjust room temperature according to your lifestyle needs while saving energy and money along the way.
Midea Air App Not Working
If you're having trouble with the Midea Air App not working, you may need to update your software or check that your phone is compatible. Make sure that you are using a device running iOS 9.0 or higher for iPhones and Android 5.0 or higher for Androids. Also, ensure that your mobile device's Bluetooth function is enabled before trying to connect the Midea Air app to the appliance.

If all else fails, try uninstalling and reinstalling the app on your phone as this can sometimes fix unexpected issues with apps.
Midea Air Conditioner Qr Code
Midea air conditioners now come with a handy QR code that makes it easy to register your product and access customer service. The QR code is located on the back of the unit, so you can quickly scan it using any smartphone camera or QR scanner app. By scanning the code, you can easily find out more information about your Midea air conditioner such as warranty information, troubleshooting tips and contact details for their customer services team.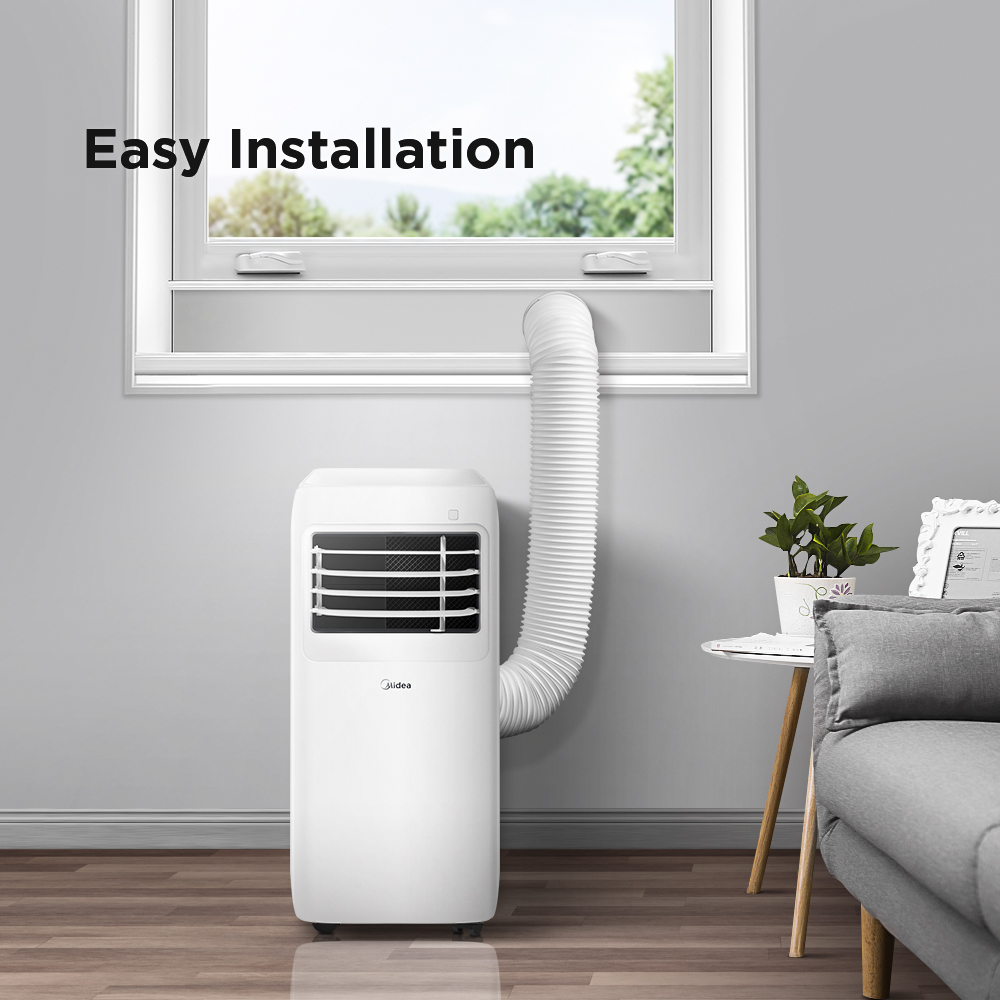 Credit: www.midea.com
How Do I Connect My Midea Air Conditioner to Bluetooth?
To connect your Midea air conditioner to Bluetooth, you'll need to install the appropriate app for your device. Once the app is installed, open it and follow the instructions to pair your Midea air conditioner with a compatible phone or tablet. From there, you can use the app's settings to adjust temperature settings and other features wirelessly from your device.

You may also be able to access specific settings such as fan speed or energy saving mode by using voice commands through a connected Amazon Alexa or Google Home device.
How Do I Connect to Midea Wifi?
In order to connect to Midea wifi, you will need a wireless router and an active internet connection. To start the process of connecting your device to Midea wifi, open up your device's Wi-Fi settings. Find the list of available networks and select "Midea" from the list.

You may be prompted for a password if one is set up on your network – if so, enter it in the given field and click 'Connect'. Once connected, you should be able to access the full range of services offered by Midea WiFi.
How Do I Control My Midea Air Conditioner?
Controlling your Midea air conditioner is easy. First, open the control panel on the front of the unit and set up your desired temperature and fan speed settings. You can also adjust additional features such as sleep mode, energy saving mode, timer functions, and more depending on your model.

To maximize efficiency and comfort, you may want to consider investing in a remote control for easier access to all these settings from anywhere in the room. Additionally, some models come with voice command capabilities or smartphone apps that allow you to conveniently change settings at any time without having to go near the unit itself.
Is There an App for Midea Air Conditioner Remote?
Yes, there is an app for Midea air conditioner remote! The Midea AC Smart App allows you to remotely control your air conditioning unit with ease and convenience. With the app, you can turn your AC on or off, set timers and schedules, adjust temperature settings and more—all from the comfort of your smartphone.

You can also check energy usage data in real-time so that you know exactly how much money you are saving on cooling costs each month. Additionally, it is compatible with Amazon Alexa devices so that users can use voice commands to control their air conditioners as well.
Midea WiFi Dongle Installation with Midea Air App Setup
Conclusion
In conclusion, connecting your Midea air conditioner to your phone is a great way to take control of your air conditioning from anywhere. With just a few simple steps and the right app, you can easily enjoy the convenience of controlling your temperature remotely. Whether you're at home or away, this easy process will make sure that you have complete control over the climate in any room in which you have an installed Midea unit.
{ "@context": "https://schema.org", "@type": "FAQPage", "mainEntity":[{"@type": "Question", "name": "How Do I Connect My Midea Air Conditioner to Bluetooth? ", "acceptedAnswer": { "@type": "Answer", "text": " To connect your Midea air conditioner to Bluetooth, you'll need to install the appropriate app for your device. Once the app is installed, open it and follow the instructions to pair your Midea air conditioner with a compatible phone or tablet. From there, you can use the app's settings to adjust temperature settings and other features wirelessly from your device. You may also be able to access specific settings such as fan speed or energy saving mode by using voice commands through a connected Amazon Alexa or Google Home device." } } ,{"@type": "Question", "name": "How Do I Connect to Midea Wifi? ", "acceptedAnswer": { "@type": "Answer", "text": " In order to connect to Midea wifi, you will need a wireless router and an active internet connection. To start the process of connecting your device to Midea wifi, open up your device's Wi-Fi settings. Find the list of available networks and select "Midea" from the list. You may be prompted for a password if one is set up on your network – if so, enter it in the given field and click 'Connect'. Once connected, you should be able to access the full range of services offered by Midea WiFi." } } ,{"@type": "Question", "name": "How Do I Control My Midea Air Conditioner? ", "acceptedAnswer": { "@type": "Answer", "text": " Controlling your Midea air conditioner is easy. First, open the control panel on the front of the unit and set up your desired temperature and fan speed settings. You can also adjust additional features such as sleep mode, energy saving mode, timer functions, and more depending on your model. To maximize efficiency and comfort, you may want to consider investing in a remote control for easier access to all these settings from anywhere in the room. Additionally, some models come with voice command capabilities or smartphone apps that allow you to conveniently change settings at any time without having to go near the unit itself." } } ,{"@type": "Question", "name": "Is There an App for Midea Air Conditioner Remote? ", "acceptedAnswer": { "@type": "Answer", "text": " Yes, there is an app for Midea air conditioner remote! The Midea AC Smart App allows you to remotely control your air conditioning unit with ease and convenience. With the app, you can turn your AC on or off, set timers and schedules, adjust temperature settings and more—all from the comfort of your smartphone. You can also check energy usage data in real-time so that you know exactly how much money you are saving on cooling costs each month. Additionally, it is compatible with Amazon Alexa devices so that users can use voice commands to control their air conditioners as well." } } ] }