To keep mice out of air conditioner condenser, seal any openings and use mouse traps. Air conditioner condensers are vital in maintaining a household's temperature, especially during summer.
However, rodents' presence, particularly mice, can create a nuisance, damage your unit, and create unhealthy living conditions with their droppings. As a result, it is essential to take measures to keep them away. Mice nest in dark and hidden openings to avoid predators and need access to food and water.
Once they have found a suitable place, their infestation becomes challenging to control. Fortunately, there are a few practical steps you can take to prevent your unit from being infiltrated. This article discusses easy ways to keep mice away from your air conditioner condenser.
Signs Of Mice Infestation In The Air Conditioner
Unusual sounds come from your air conditioning unit, such as scratching, squeaking, or scurrying noises.
Damaged insulation or wiring in the air conditioning system.
Foul odor or droppings around the air conditioning unit.
Airflow issues or reduced cooling performance from your air conditioning system.
If you notice any of these symptoms, it could suggest rodents are present in your air conditioning system.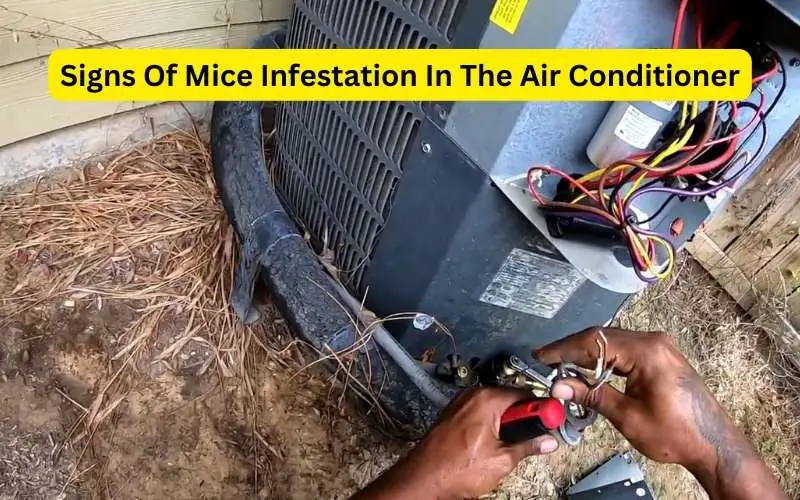 Understanding The Damage Caused By Mice In The Air Conditioning System
Mice are notorious for their destructive habits, and when present in an air conditioning unit, they can cause significant damage. The following are some of the problems mice can cause to your air conditioning system:
Chewing on insulation or electrical wires causes a fire hazard and system failure.
Building nests that can clog the air filter or fan, reducing airflow and the system's overall capacity.
Contaminating the air with allergens present in mice droppings, urine, and hair.
Chewing on the refrigerant lines, causing leaks, and other expensive repair problems.
How to Keep Mice Out of Air Conditioner Condenser? Best Practices!
Follow these best practices to keep mice out of your air conditioner condenser:
Proper Maintenance Of The Air Conditioning Unit
Regular maintenance of the air conditioning unit is crucial in keeping it functioning correctly and safeguarding against unwanted visitors.
Check and replace air filters every three months or as instructed by the manufacturer. Dirty filters can obstruct airflow, causing the condenser to work harder and create a more welcoming environment for mice.
Inspect the unit for any signs of damage or wear and tear, including rust, frayed wires, or cracks.
If you identify any issues, secure the help of a professional technician to repair them before they cause further damage or invite pests.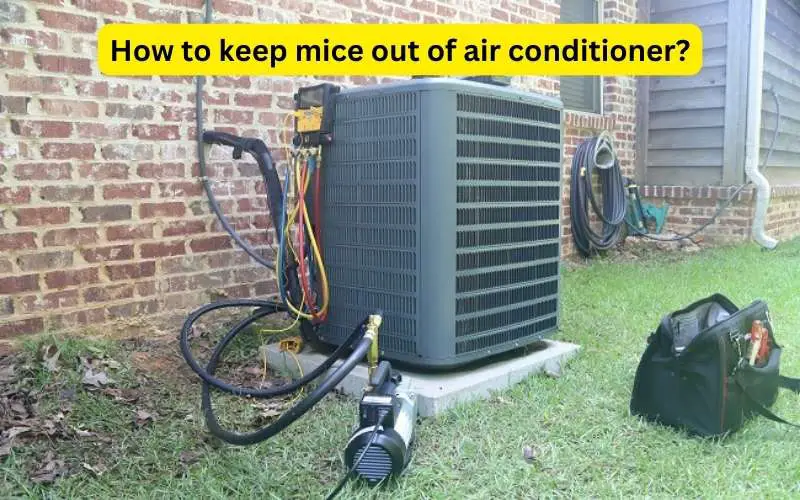 Sealing All Entry Points Of The Air Conditioning Unit
Small gaps and crevices around the air conditioning unit can serve as entry points for mice.
Seal all the entry points, including gaps around pipes and cables, with caulk or foam sealant.
Use weather stripping to seal gaps around the doors, windows, and where power lines enter the house.
Ensure to check the unit regularly to confirm there are no new entry points for mice seeking refuge or looking for food.
Cleaning The Immediate Surroundings Of The Air Conditioning Unit Regularly
Regularly cleaning the area around the air conditioner unit removes potential food sources for mice and other pests.
Remove debris, such as leaves, twigs, and grass clippings, around the unit, creating a perimeter that mice will find hard to cross.
Clearing debris from gutters and regularly mowing the lawn, if any, helps in maintaining a mouse, pest-free perimeter around the unit.
Cover the condenser with a mesh cover, specifically designed to keep pests away and allow airflow.
Regular maintenance and cleaning will help safeguard your air conditioning unit and keep the invading mice at bay.