To make an RV AC quieter, begin by checking the unit for loose bolts and screws that may be causing rattles or squeaks. Tighten any loose components with a screwdriver or wrench. Then check to see if there is anything blocking the outside air intake of the AC unit such as foliage, dirt, or debris and clear it away if necessary.

Now Install insulation around your RV's windows and doors to reduce sound coming from within your vehicle. Add acoustic panels on walls in the room where you have installed your AC unit to absorb vibrations and sound energy emitted from it.
Place foam rubber padding underneath each foot of the RV AC unit so that it does not vibrate against hard surfaces like floors or decks when running which can cause noise levels to increase significantly.

Replace old filters regularly according to manufacturer's instructions as clogged filters can reduce airflow through the system leading to higher noise levels when running.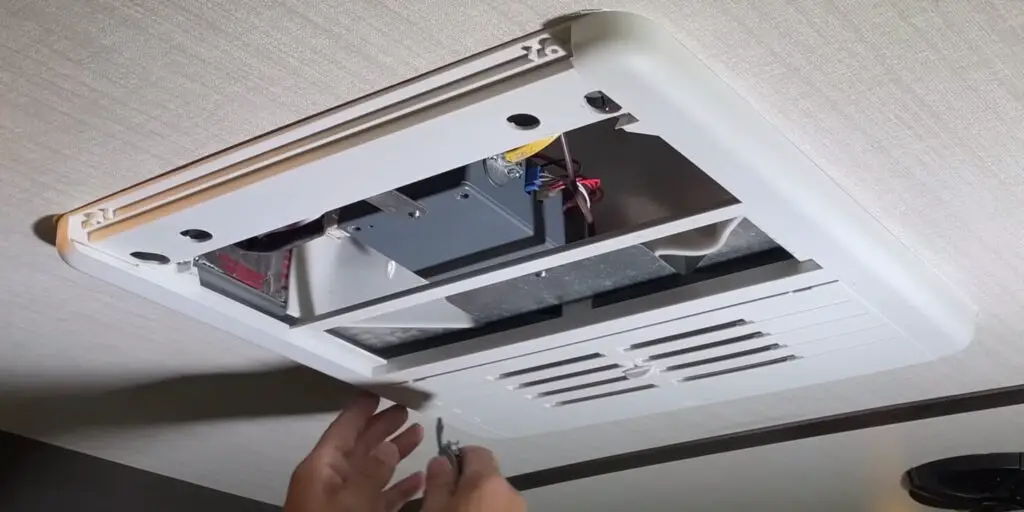 Can You Make a Rv Air Conditioner Quieter?
Yes, you can make a RV air conditioner quieter. The first step is to check the filter and clean or replace it if necessary. Keeping the filter clean will help reduce noise levels as dust particles can get stuck in the fan blades causing them to be louder when running.

Additionally, you should also ensure that all parts of your air conditioning system are properly secured and fastened down so there's no rattling noises coming from loose screws or bolts. You may want to invest in some soundproofing materials like foam insulation panels which attach directly onto your AC unit to absorb vibrations and muffle any loud sounds emitted by the unit itself.
Lastly, avoid placing furniture too close to your AC unit as this could affect airflow and cause an increase in noise levels due to increased turbulence around the vents.

With these tips, you should be able to enjoy cooler temperatures while still getting a peaceful night's sleep!
How to make ac less noisy?
If you want to make your air conditioner less noisy, there are several steps you can take. First and foremost, ensure that your AC unit undergoes regular maintenance. Clean or replace the air filters frequently, and have a professional check and service the unit annually.
Loose parts can contribute to increased noise, so be sure to inspect and tighten any loose panels, screws, or brackets. To further reduce noise, consider using soundproofing materials around the air conditioner. Acoustic foam or sound blankets can be installed to absorb sound waves.
Additionally, creating a barrier around the AC unit, such as a fence or noise barrier, can help block the noise from reaching the interior of your home. When installing a new air conditioner, choose its location strategically, away from bedrooms and living areas to minimize disruption.
Upgrading to a quieter model is also an option if your current AC unit is old and particularly noisy. For added noise reduction, build or purchase a soundproofing box or enclosure for the air conditioner.
Installing rubber isolation pads under the unit's feet will help absorb vibrations and decrease noise transmission.
Finally, consider using white noise machines or fans in the room to mask the AC noise, creating a more soothing environment.
Why is My Rv Ac So Loud?
If you recently purchased a Recreational Vehicle (RV) or are planning to buy one, then noise from the air conditioner is likely one of your top concerns. Unfortunately, many RV AC units can be quite loud due to their size and design. The fan motor used in an RV AC unit is typically smaller than the ones found in residential air conditioning systems, meaning it must spin faster in order to push enough cooled air out into the RV.

This spinning causes more vibration which leads to increased noise levels. In addition, some RVs may have insulation that does not adequately protect against sound coming from outside as well as within the cabin space itself. As a result, this can lead to louder-than-normal sounds emanating from your AC unit when it's running.

Make sure that all areas around your AC unit are properly insulated and sealed off so that sound waves can't escape through holes or cracks around windows and doors.
Additionally, consider purchasing an aftermarket fan motor with quieter operation or switching out your current model for a newer one designed specifically for RVs with improved acoustic performance features such as dual speed capabilities or variable frequency drive technology.
How Can I Make My Ac Less Loud?
If you're trying to make your AC unit less loud, there are a few things that you can do. First, check the filters and clean or replace them if necessary. Dirty filters can restrict airflow which causes the motor to work harder and increase noise levels.

You should also inspect any ductwork for leaks since this will allow air to escape from the system which will cause it to become louder. If possible, add insulation around ducts as well; this reduces sound transmission through walls and floors so that it won't be as noticeable in other rooms of your home.
Additionally, lubricate any moving parts like fans and motors with oil regularly since dry bearings can create a lot of noise when they move around.

Lastly, consider investing in an acoustic cover for your outdoor condenser; these covers reduce noise by absorbing sound waves before they reach indoors while still allowing enough airflow for efficient cooling operations.
Dometic Noise Reduction Kit
The Dometic Noise Reduction Kit is a great way to reduce the amount of noise coming from your RV's air conditioner. It includes sound-absorbing materials that can be installed on the outside of your AC unit, as well as foam insulation for the interior panels.
This kit greatly reduces unwanted noise and increases comfort inside your RV so you can enjoy a peaceful camping experience.
Rv Air Conditioner Modification
One of the most popular modifications to RV air conditioners is the addition of a compressor cover. This protective covering helps reduce noise and keeps leaves and other debris from clogging up your AC unit. It also increases efficiency by providing better insulation for the cooling system, allowing it to work more effectively in hotter temperatures.
Dometic Whisper Quiet Ac
The Dometic Whisper Quiet AC is the perfect solution for those who want the convenience of air conditioning with minimal noise. This powerful yet quiet unit offers superior cooling performance, thanks to its advanced condenser design and advanced technology that allows it to run at an ultra-low decibel level. It also boasts a compact size that makes it easy to install in any space, as well as energy efficiency that helps save money on electricity bills.

Whether you're looking for a way to cool down your RV or just need some peace and quiet in your home, the Dometic Whisper Quiet AC has you covered.
Non Ducted Rv Ac Silencer
Non Ducted RV AC Silencers are devices that help to reduce the noise emitted from a Non Ducted air conditioning system. These silencers work by absorbing sound waves and deflecting them away from the occupants of your RV, reducing any loud noises or vibrations that come through your unit's vents. They are an affordable solution for improving comfort levels in your vehicle and can be easily installed with minimal effort.
DIY Rv Ac Silencer
DIY RV AC Silencers are an innovative way to reduce the noise from your air conditioner when camping. They use a combination of custom-made acoustic panels and strategically placed insulation materials to block out sound waves, allowing you to enjoy a quiet and peaceful environment while in your RV.
DIY Air Conditioner silencers can be easily installed with minimal cost and effort, making them an attractive option for those looking to keep their camping experience as comfortable and tranquil as possible.
How to Increase Airflow in Rv Ac?
One of the best ways to increase airflow in an RV AC is to make sure all air vents and filters are clean. Be sure to check and replace any clogged or dirty filters regularly, as this can significantly reduce air flow. Additionally, it is important to ensure that all ducts and registers are open in order for the system to work properly.

You may also want to consider installing a roof vent fan on your RV if you have not already done so; these fans help circulate air throughout the vehicle much more efficiently than regular vents do.
Dometic Ac Silencer
The Dometic Ac Silencer is a great way to reduce noise from your air conditioning system. It can be installed easily and quickly and is designed to reduce the sound levels from your AC unit by up to ten decibels, making it perfect for those who want peace and quiet in their home or office. This product also works with all types of air conditioners, so you don't have to worry about compatibility issues.

The Dometic Ac Silencer will help you create a peaceful environment without sacrificing comfort!
Conclusion
In conclusion, making your RV AC quieter is not only simple but also cost-effective. Making a few small changes to the system and using mufflers can significantly reduce noise levels and make your RV experience much more enjoyable.
With a bit of research and effort, you will be able to find inexpensive solutions that will help keep your RV AC quiet for years to come.