Introduction to Mitsubishi Fault Codes Check List PDF with Troubleshooting Guide
If you own a Mitsubishi vehicle or equipment, you know how essential it is to keep them running smoothly and efficiently. However, like any complex machinery, issues can arise from time to time. When something goes wrong, the onboard diagnostic system generates fault codes to help pinpoint the problem.
To assist you in decoding these fault codes and troubleshooting potential issues, we have prepared a comprehensive Mitsubishi Fault Codes Check List PDF with a user-friendly Troubleshooting Guide.
This handy resource aims to empower Mitsubishi owners with the knowledge needed to understand, diagnose, and resolve common faults, ensuring your vehicle or equipment stays in top-notch condition.
Mitsubishi Fault Codes Check List PDF Download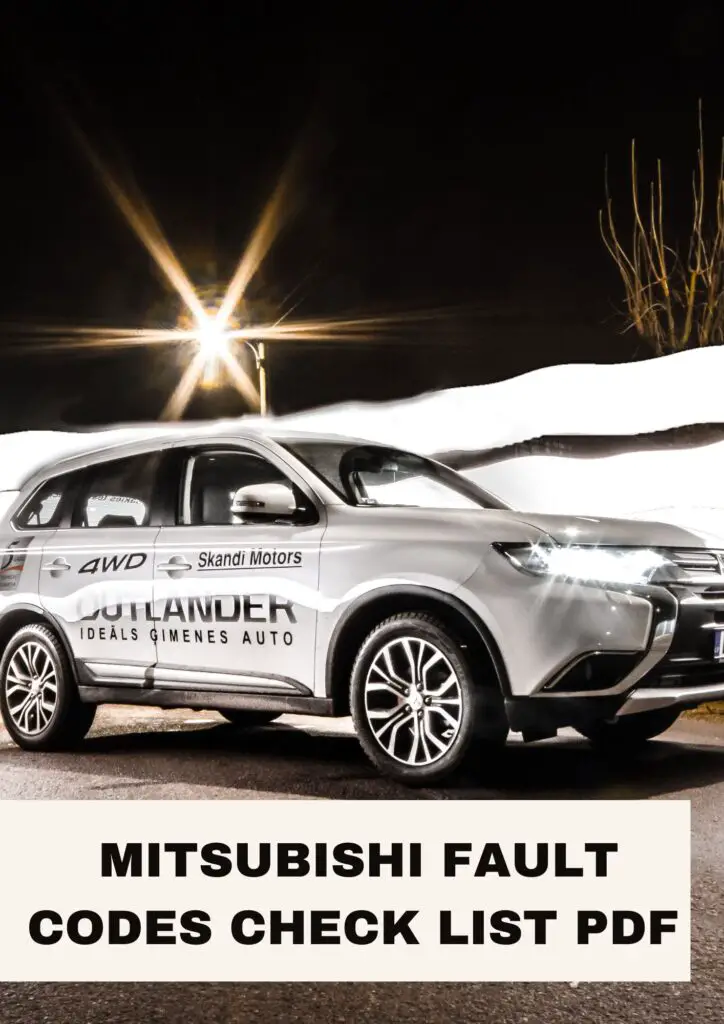 Mitsubishi Fault Codes Troubleshooting Guide
Mitsubishi is a renowned name in the automotive and industrial equipment industry, manufacturing a wide range of vehicles and machinery. Despite their reputation for reliability, even Mitsubishi products can experience issues from time to time. When problems arise, the onboard diagnostic system in Mitsubishi vehicles and equipment generates fault codes to help identify specific issues. In this troubleshooting guide, we will explore Mitsubishi fault codes and how to interpret them to diagnose and resolve potential problems effectively.
Understanding Mitsubishi Fault Codes
Mitsubishi fault codes are alphanumeric combinations that provide information about specific faults or malfunctions within the vehicle or equipment. When a component or system encounters an issue, the vehicle's onboard computer (ECU – Engine Control Unit) detects it and generates a fault code. These codes serve as a valuable starting point for diagnosing the problem accurately.
Accessing Mitsubishi Fault Codes
To access Mitsubishi fault codes, you'll need an OBD-II (On-Board Diagnostics) scanner or a specialized diagnostic tool that can communicate with the vehicle's ECU. Most modern Mitsubishi vehicles have a standardized OBD-II port located near the driver's side dashboard. Once the scanner is connected, it will read and display the fault codes on its screen.
Interpreting Mitsubishi Fault Codes
Mitsubishi fault codes typically consist of a letter followed by four digits (e.g., P0123). The letter prefix indicates the type of issue, and the digits provide more specific information about the problem. Here's a breakdown of the letter prefixes and their meanings:
P Codes (Powertrain Codes): These codes relate to issues with the engine, transmission, and emissions systems. P codes are the most common and often indicate problems that affect the vehicle's performance and fuel efficiency.
C Codes (Chassis Codes): C codes pertain to the vehicle's chassis systems, including the anti-lock brake system (ABS), stability control, and suspension.
B Codes (Body Codes): B codes are associated with body-related components like airbags, seatbelts, and climate control systems.
U Codes (Network Communication Codes): U codes are less common and are related to communication issues between different control modules in the vehicle.
Common Mitsubishi Fault Codes and Troubleshooting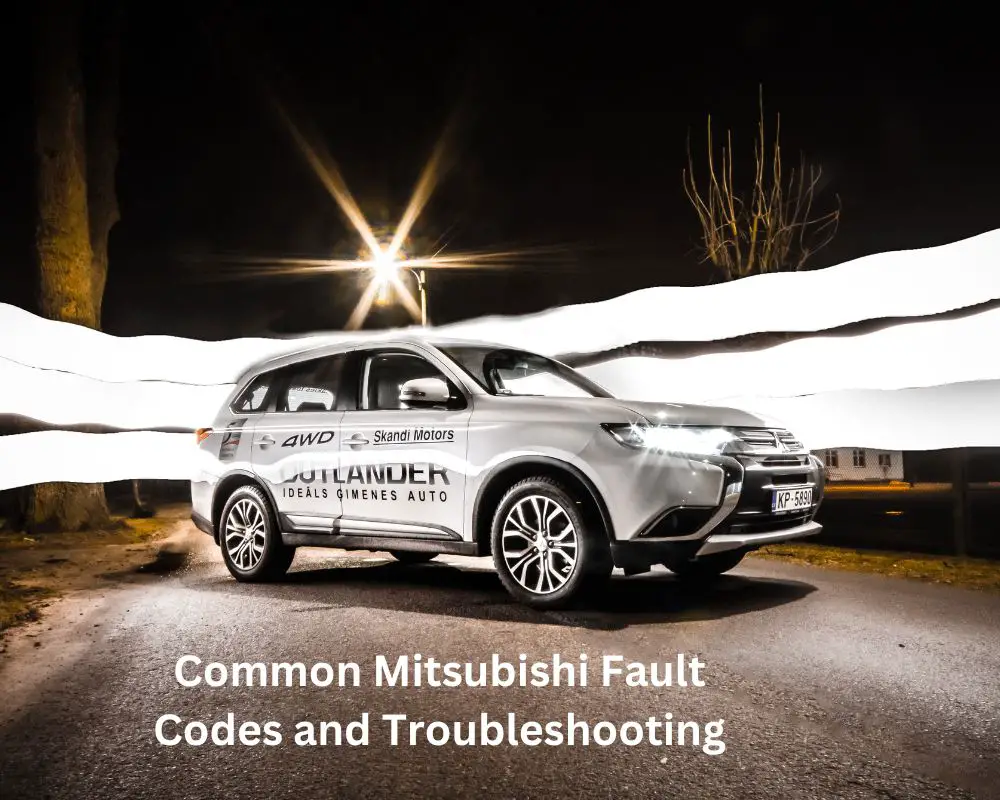 While there are numerous Mitsubishi fault codes, some are more prevalent than others. Here are a few common fault codes and possible troubleshooting steps:
P0101 – Mass or Volume Air Flow Circuit Range/Performance Problem: This code indicates an issue with the Mass Air Flow (MAF) sensor. Cleaning or replacing the MAF sensor might resolve the problem.
P0420 – Catalyst System Efficiency Below Threshold (Bank 1): This code suggests a potential problem with the catalytic converter. Inspecting the converter and the exhaust system for damage or leaks is a good starting point.
C1210 – ABS Pump Motor Control: This code points to an issue with the Anti-Lock Brake System (ABS) pump motor. Checking the ABS fuse and wiring connections could be beneficial.
B1422 – Solar Sensor Circuit: This code relates to the solar sensor in the climate control system. Verifying the sensor's wiring and connections is crucial to address this problem.
U1000 – CAN Communication Line – Signal Malfunction: This code indicates a communication problem between control modules. Inspecting the vehicle's wiring harness and connectors for damage or corrosion may help resolve the issue.
When to Seek Professional Assistance
While some Mitsubishi fault codes can be resolved with basic troubleshooting, others may require specialized knowledge and equipment. If you are unsure about the fault codes or lack the technical expertise to fix the issues, it's best to consult a qualified mechanic or Mitsubishi service center. Their experience and diagnostic tools will ensure accurate identification and resolution of the problems.
Conclusion
Mitsubishi fault codes are invaluable tools that aid in diagnosing and resolving issues with Mitsubishi vehicles and equipment. Understanding the meaning of these codes and following appropriate troubleshooting steps can save time and money, keeping your Mitsubishi running smoothly and efficiently. However, when faced with complex or unfamiliar fault codes, seeking professional assistance is the wisest course of action. Regular maintenance and timely resolution of fault codes can extend the life of your Mitsubishi vehicle or equipment, ensuring optimal performance for years to come.