An AC capacitor is a device that stores an electrical charge, usually in the form of voltage. It is composed of two metal plates separated by an insulator material such as paper or plastic. The plates have opposite electrical charges and when connected to an AC power source they can store energy in the form of electric field between them.

When current flows through the capacitor it accumulates energy which can then be released back into the circuit on demand, providing a steady current flow even during times when there are drops in voltage from the power source. This helps protect electronic circuits from damage caused by surges or dips in voltage levels.
An AC capacitor is a device that helps to store electrical energy and helps regulate the flow of electricity in an alternating current (AC) circuit. It works by storing charge when the voltage across its terminals increases, then releasing it back into the circuit as needed. This allows for smoother power delivery and helps reduce overheating in motors and other components that require a consistent supply of power.

In short, an AC capacitor plays an important role in helping ensure efficient operation of your AC system.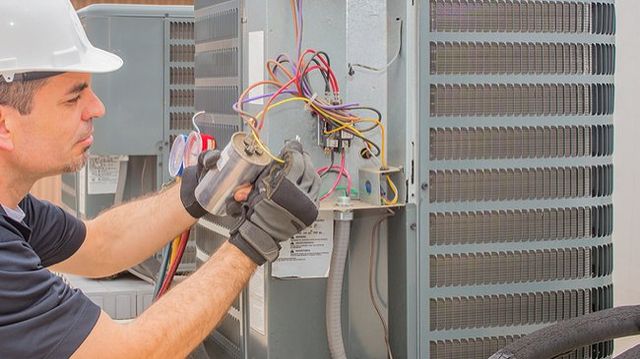 Credit: www.nextlevelhvac.net
What Happens When the Ac Capacitor Goes Out?
When the AC capacitor goes out, it can lead to a range of issues that may make your air conditioning unit less effective or even stop functioning altogether. The capacitor is an important part of the AC system as it stores energy and helps regulate electricity flow through the unit. Without a functioning capacitor, the compressor motor could overheat and fail, leaving you without cool air when you need it most.

A bad capacitor can also cause other components in your air conditioner to work inefficiently and even fail prematurely, leading to significant repair costs down the line. To prevent this from happening, it's important to monitor your AC system for signs that something may be wrong with its capacitor such as humming noises or unusual smells coming from the unit. If you notice anything amiss with your AC system, contact a professional technician who can assess the issue and replace any faulty parts if necessary.
How Do I Know If My Ac Capacitor is Bad?
One of the most common signs that your AC capacitor is bad is when you're having problems with starting up your air conditioner. If your AC unit suddenly stops working, it may be because the capacitor has failed. You can usually tell if this is the case by checking to see if there's any humming or buzzing coming from the unit, or if there's a burning smell coming from it.

Another sign that indicates a faulty capacitor is uneven cooling in different rooms or areas. Additionally, you may notice that one day your AC will blow cold air and then warm air on another day- this could indicate an issue with the capacitor as well. To confirm whether or not your AC's capacitors are bad before replacing them, you should use an ohmmeter to measure its resistance; if they don't match what they should according to manufacturer specifications, then it means that they need to be replaced immediately.
How Often Should You Replace Ac Capacitor?
If your air conditioner isn't working as efficiently or effectively as it used to, you may need to replace the capacitor. This part helps control electrical current and voltage in your AC unit. But how often should you replace the capacitor?

The answer depends on a few factors, including the age of your system and its maintenance history. If your AC is relatively new (under 10 years old) and has been maintained regularly, then you shouldn't have to worry about replacing the capacitor for at least five years or more. However, if your system is older than 10 years old or hasn't had regular maintenance, then it's important that you inspect and potentially replace this component every two to three years just to be sure everything is running properly.

Additionally, if your AC suddenly stops working entirely or takes longer than usual to cool down a room despite being set at an appropriate temperature setting—this could also be a sign that either the compressor motor needs servicing/replacing or that the capacitor should be inspected/replaced sooner rather than later!
Can an Ac Run Without a Capacitor?
No, an air conditioning unit cannot run without a capacitor. The capacitor is a key component in the operation of the AC unit and it helps to maintain proper voltage and current levels throughout the system which allows the motor to start up and run properly. Without a capacitor, there would be too much electrical resistance in circuits which could cause motors to overheat or fail prematurely.

Additionally, capacitors help reduce power surges in order to protect sensitive components like compressors from damage due to sudden changes in voltage levels. Installing a new capacitor prior to running any AC unit is essential for optimal performance as well as safety reasons.
5 Misunderstood AC Run Capacitor Facts
What is an Ac Capacitor
An AC capacitor is a device that stores electrical energy in an electrostatic field. It is typically used to maintain a steady voltage level across an AC circuit, helping to regulate the power flow and providing surge protection. Capacitors are essential components of many electronic devices and can be found in everything from computers to air conditioners.
Will Ac Fan Run If Capacitor is Bad
A bad capacitor can cause an AC fan to malfunction or not run at all. If your AC fan is not working, it is important to check the condition of the capacitor first. A faulty or weak capacitor may need to be replaced in order for the AC fan to work properly again.

It's important to have a professional inspect and replace any damaged capacitors as this could lead to further electrical issues if done incorrectly.
Ac Capacitor Symptoms
An AC capacitor is an important component of many electrical systems, and if it fails it can cause a variety of symptoms. These symptoms include flickering lights, buzzing sounds coming from the system, problems with starting motors or fans, reduced power output to other components in the system, and even full power failure. If any of these issues are noticed in your system then it could be indicative of an AC capacitor that needs to be replaced.
Life Expectancy of Air Conditioner Capacitor
The life expectancy of an air conditioning capacitor can vary depending on the quality and type of capacitor used. Generally, most capacitors will last between 10-15 years with proper maintenance. Factors such as environmental conditions and voltage changes can also affect the lifespan of an air conditioner's capacitor.

To ensure your AC unit is running at its best, it's important to have regular maintenance done by a qualified technician.
Lowes Ac Capacitor
The Lowes AC Capacitor is an essential component of any air conditioner, providing the electrical current necessary to keep your unit running at peak efficiency. It helps your system start up faster, provides better cooling and ensures a longer lifespan for your air conditioning system. The capacitor stores and releases energy in pulses to help maintain proper motor speed and increase efficiency.

This product is available for purchase online or in store from Lowe's Home Improvement retailers.
What Causes a Blown Ac Capacitor
A blown ac capacitor is caused by an overload of electricity in the unit. This can happen when too much voltage or current passes through the system, which causes a build-up of heat and pressure. The excess heat and pressure cause the metal plates inside the capacitor to rupture and separate, leading to an electrical short circuit that stops power from flowing through properly.

If your AC system is experiencing issues with a blown capacitor, it's important to have it inspected by a professional as soon as possible in order for repairs to be made before any further damage occurs.
Ace Hardware Ac Capacitor
Ace Hardware AC Capacitors are a great choice for your air conditioning needs. They are designed to maintain their electrical charge, even in extreme weather conditions, making them reliable and long lasting. These capacitors also feature durable metal cases that provide protection from environmental elements like dust and moisture.

With Ace's wide selection of sizes and ratings, you can find the perfect capacitor for any air conditioning unit or appliance.
How to Test Ac Capacitor
Testing an AC capacitor is a relatively simple process that requires using a multimeter to measure the capacitance and resistance. First, make sure the power to the capacitor is off and unplugged from any outlet or other device. Then, set your multimeter to read capacitance and place one lead on each of the terminals on the capacitor.

The reading should indicate whether there is still charge in it or not—if it does not register any value then you may need to replace your capacitor. If it does read a value, set your multimeter back to its ohms setting and check for continuity between the leads; if no continuity exists then again you will need a new capacitor.
Conclusion
In conclusion, an AC capacitor plays a very important role in the operation of your air conditioner. It helps to ensure that the electric current is flowing correctly and smoothly throughout the system. An AC capacitor is an essential part of any air conditioning system and should be regularly inspected and serviced for optimal performance.

With proper maintenance, you can keep your air conditioner running efficiently for many years to come.