It can be frustrating when you find yourself searching for the reset button on an appliance like your Goodman air conditioner.
You may have gone through your user manual and still found nothing.
Don't worry – if you need help with locating or activating the reset button, this guide has got you covered!
We'll provide step-by-step instructions and answers to any questions you might have.
So don't let a minor inconvenience keep you from enjoying comfortable temperatures indoors – take control of your AC now!
Overview Of The Goodman Brand And Its Features
Goodman is a well-known name in the air conditioning industry, recognized for its commitment to providing high-quality, efficient, and durable products.
Founded in 1982, Goodman has consistently prioritized customer satisfaction, offering air conditioners that are not only top-performing but also affordable.
One of the key features of Goodman air conditioners is their energy efficiency.
Many of their products are Energy Star certified, which indicates that they fulfill or exceed the high energy efficiency criteria established by the United States Environmental Protection Agency.
This not only decreases your carbon footprint but also saves you money on your energy expenses.
Another impressive feature is the Goodman sound control top design, which ensures quiet operation.
This is particularly beneficial for homeowners who place a premium on maintaining a peaceful indoor environment.
In short, when you choose a Goodman air conditioner, you can rest assured you're investing in a reliable, efficient cooling solution.
How To Locate The Reset Button On Goodman AC?
Locating the reset button on a Goodman air conditioner is straightforward. It is typically found on the outdoor unit or condenser.
Here are step-by-step instructions to guide you:
Make sure the air conditioner is off:
Before you attempt to locate the reset button, ensure that the air conditioner is turned off.
This is a necessary safety measure to prevent any accidental electrical shock.
2. Find the outdoor unit:
Walk outside and locate the outdoor unit (also known as the condenser). This is usually a large, square-shaped unit that rests on a concrete pad on the side of your house.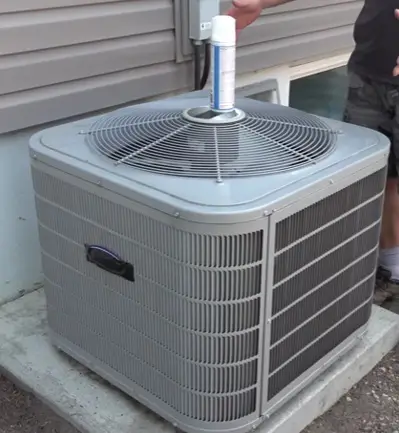 3. Search for the reset button:
The reset button is typically a small red or black button located on the exterior of the unit. It might be labeled as 'Reset'.
4. If you can't find the button:
In some models, the reset button might be located inside the condenser's access panel. You can usually remove this panel by unfastening a few screws.
Remember to put on safety gloves before you reach inside, and be careful not to touch any electrical components directly.
If you're unable to locate the reset button or are unsure about proceeding with any steps, it's recommended to contact a professional HVAC technician for assistance.
Steps To Reset A Goodman AC
If your Goodman air conditioner is experiencing issues and you need to reset it, follow these simple steps:
Turn off the AC unit and unplug it from the power source.
Locate the reset button on the exterior of the unit near the power cord.
Press and hold the reset button for a few seconds before releasing it.
Wait for a minute or two before plugging the unit back in and turning it on.
If the air conditioner still doesn't work correctly, consult with a professional technician.
Tips For Troubleshooting If The Reset Button On Goodman AC Isn't Working
In some cases, pressing the reset button on your Goodman air conditioner may not solve the issue. Here are a few troubleshooting tips you can try:
Check for other power sources: Some models have a separate power switch inside the condenser unit that might need to be turned on.
Check for tripped circuit breakers: If there is no power to the outdoor unit, check the circuit breaker box to see if any breakers have been tripped.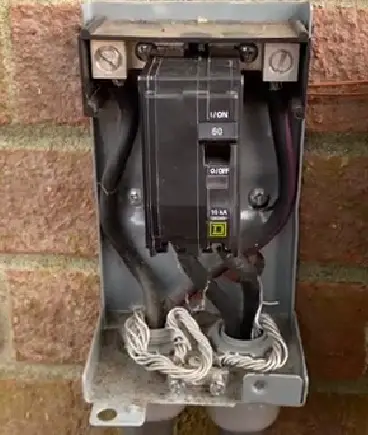 3. Clean or replace air filters: Dirty or clogged air filters can cause your AC unit to malfunction. Make sure to clean or replace them regularly.
4. Clear debris around the unit: Leaves, dirt, and other debris can accumulate around the condenser unit and affect its performance. Make sure to clear the area regularly.
5. Consult with a professional technician: If you're unable to find a solution, it's best to contact a certified HVAC technician for assistance.
In summary, the reset button on your Goodman air conditioner is an essential feature that can be easily located and activated.
By following our step-by-step instructions and troubleshooting tips, you can ensure your AC unit is functioning correctly and efficiently.
Remember to always prioritize safety and consult with a professional if needed.
With Goodman's commitment to quality and customer satisfaction, you can trust in the reliability of their air conditioning solutions.
So don't let a small inconvenience hold you back from enjoying comfortable temperatures indoors – take control of your AC today!