ACiQ mini splits are made by Midea. Midea Group is an electrical appliance manufacturer from China, one of the largest air conditioner producers in the world.
With summer temperatures rising, many homeowners are turning to mini-split systems to stay cool and comfortable.
Mini-splits offer a convenient and energy-efficient solution for climate control, allowing users to cool specific areas of their homes without the need for extensive ductwork.
ACiQ mini splits, in particular, are a popular choice among homeowners due to their reliable performance and innovative features.
Midea, the company behind ACiQ mini splits, is known for its commitment to quality and customer satisfaction.
They have been in the HVAC industry for years, ensuring that their products are built to last.
Whether it's a small room or a large living space, ACiQ mini splits are designed to provide efficient cooling and heating solutions.
So, if you are looking for a reliable and top-notch mini-split system, ACiQ mini splits are a great choice.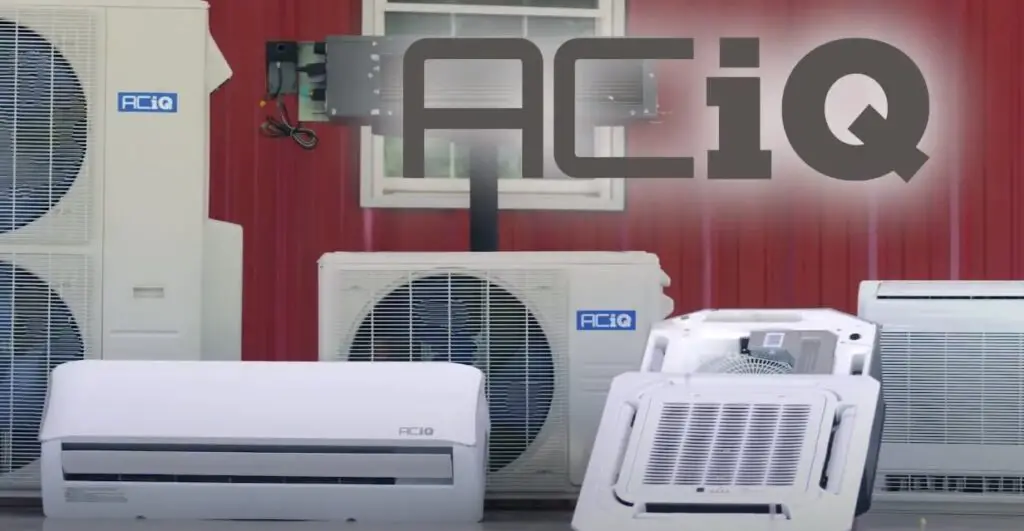 Understanding The ACiQ Brand
ACiQ mini splits has become a leading brand in the HVAC industry, known for its commitment to quality and innovation.
Their range of products offers cutting-edge technology and superior performance, making them a popular choice among homeowners and businesses alike.
In this section, we will delve into the key aspects of the ACiQ brand, exploring how they revolutionized the HVAC industry, their dedication to quality and innovation, as well as the variety of products they offer.
How ACiQ Mini Splits Revolutionized The HVAC Industry:
ACiQ mini splits introduced a revolutionary approach to heating, ventilation, and air conditioning systems, reshaping the way people experience indoor comfort.
Their innovative design combines energy efficiency and advanced technology to provide precise temperature control, improved air quality, and enhanced comfort.
By offering compact and flexible systems, ACiQ mini splits have made HVAC solutions more accessible and convenient for a wide range of applications, from residential homes to commercial spaces.
They have set new industry standards with their smart features, such as wifi connectivity and smart home integration, enabling users to control their HVAC systems remotely and optimize energy usage.
ACiQ's Commitment To Quality And Innovation:
ACiQ mini splits prides itself on delivering products of the highest quality, ensuring unparalleled performance and reliability for their customers.
They conduct rigorous testing and quality checks throughout the manufacturing process to guarantee that every unit meets their stringent standards.
ACiQ is committed to continuous innovation, investing in research and development to stay at the forefront of HVAC technology and offer cutting-edge solutions.
With a focus on sustainability, ACiQ integrates eco-friendly features into their products, promoting energy efficiency and reducing environmental impact.
The Range Of Products Offered By Aciq:
ACiQ mini splits offer a diverse range of products tailored to meet various heating and cooling needs.
Their product line includes single-zone and multi-zone systems, allowing users to create personalized comfort zones for different areas of their homes or buildings.
Aciq provides different capacity options to cater to spaces of different sizes, ensuring optimal performance and energy efficiency.
With options like ducted and ductless systems, ACiQ mini splits offer versatile solutions that can be customized to fit specific installation requirements.
Whether it's heating, cooling, dehumidifying, or air purification, ACiQ's product range provides comprehensive solutions to suit different needs and preferences.
ACiQ mini splits have established itself as a brand that prioritizes quality, innovation, and customer satisfaction.
Through their revolutionary approach to HVAC systems, commitment to excellence, and a diverse range of products, ACiQ continues to shape the industry and set new benchmarks for comfort and efficiency.
An Inside Look At ACiQ Mini Splits Manufacturing
When it comes to premium quality mini-split air conditioning systems, ACiQ is a name that stands out.
As a consumer, you may wonder who is behind the creation of these innovative and reliable products.
In this section, we will take a closer look at the manufacturing process of ACiQ mini splits and the top-notch facilities where they are produced.
We will also explore the state-of-the-art technology and expertise that goes into manufacturing these exceptional cooling systems.
Lastly, we will delve into the rigorous quality control measures employed by ACiQ to ensure that every unit that leaves their facility meets the highest standards.
So let's dive in and explore the intricacies of ACiQ mini splits manufacturing.
The Top-Notch Facilities Where Aciq Mini Splits Are Produced
ACiQ takes great pride in their manufacturing facilities, which are equipped with state-of-the-art machinery and cutting-edge technology.
These facilities have been designed to optimize production processes and ensure the highest level of efficiency and quality.
With ample space and well-organized production lines, ACiQ can meet the demands of their customers while maintaining a keen focus on attention to detail.
The facilities are constantly upgraded to incorporate the latest advancements in manufacturing techniques, allowing ACiQ to stay at the forefront of the industry.
A team of skilled technicians and engineers works collaboratively to ensure that each unit is manufactured with utmost precision and craftsmanship.
The State-Of-The-Art Technology And Expertise Behind ACiQ Mini Splits
ACiQ leverages state-of-the-art technology in the production of their mini splits, combining innovation and expertise to create cutting-edge cooling systems.
By utilizing advanced software and computer-controlled systems, every manufacturing stage is closely monitored to maintain accuracy and consistency.
Expert engineers at ACiQ continuously refine the designs and functionalities of mini splits to incorporate the latest technological advancements.
ACiQ understands the importance of energy efficiency, and their mini splits are designed to maximize performance while minimizing environmental impact.
Through extensive research and development, ACiQ remains committed to staying ahead of the curve, offering the most advanced mini splits in the market.
Quality Control Measures Ensured By ACiQ
ACiQ places a strong emphasis on quality control to guarantee that every mini-split that leaves their facility meets their stringent standards.
Rigorous testing is conducted on each unit throughout the manufacturing process, ensuring that they function flawlessly and meet performance expectations.
ACiQ's quality control team meticulously inspects every component, ensuring that only the highest quality materials are used in the manufacturing process.
The company conducts performance testing on a range of parameters, such as cooling capacity, energy efficiency, and noise levels, to validate the excellence of their mini splits.
ACiQ's dedication to quality control translates into reliable and durable mini splits that provide exceptional comfort and performance day after day.
ACiQ mini splits go through a meticulous manufacturing process in top-notch facilities, utilizing state-of-the-art technology and expertise.
The company's commitment to quality control ensures that every unit is thoroughly tested and meets the highest standards.
With ACiQ mini splits, you can trust that you are investing in a reliable and cutting-edge cooling solution.
The Team Of Engineers And Designers At ACiQ
ACiQ boasts a team of talented engineers and designers who work tirelessly to create mini-splits that surpass industry standards.
The engineers at ACiQ possess a wealth of knowledge in HVAC systems and are dedicated to pushing the boundaries of innovation.
With expertise in mechanical engineering, electronics, and thermodynamics, this team is well-equipped to develop state-of-the-art technology that meets the diverse needs of consumers.
The designers at ACiQcomplement the technical excellence of the engineers by ensuring that the products not only perform flawlessly but also feature sleek and modern aesthetics.
Collaborations And Partnerships That Have Shaped ACiQ's Success
ACiQ understands the power of collaboration and has forged strategic partnerships with renowned companies in the HVAC industry.
These partnerships have played a vital role in shaping ACiQ's success by providing access to cutting-edge technologies, invaluable expertise, and a wider market reach.
By actively collaborating with industry leaders, ACiQ has been able to stay at the forefront of innovation and ensure that their mini splits remain competitive in a rapidly evolving market.
These collaborations have also enabled ACiQ to incorporate customer feedback effectively, leading to the development of products that truly cater to the needs and preferences of HVAC consumers.
With a team of passionate visionaries, skilled engineers, and strategic collaborations, ACiQ mini splits continue to redefine what is possible in the HVAC industry.
The relentless pursuit of excellence and innovation remains at the core of ACiQ's philosophy, driving them to deliver exceptional products that exceed customer expectations.
The ACiQ Difference: Why Choose Aciq Mini Splits?
In the world of mini splits, ACiQ is a brand that stands out from the crowd.
With their commitment to energy efficiency and environmental friendliness, unique features and benefits, as well as exceptional customer satisfaction rates, ACiQ mini splits offer a level of quality and performance that is hard to match.
Energy Efficiency And Environmental Friendliness Of ACiQ Mini Splits:
ACiQ mini splits are designed with energy efficiency in mind, ensuring that you get the most out of every unit.
With advanced technologies and innovative engineering, ACiQ offers mini splits that provide exceptional cooling and heating while consuming less energy, resulting in lower utility bills and reduced environmental impact.
These mini splits are equipped with variable-speed compressors and advanced inverter technology, allowing them to adjust their energy output based on the specific cooling or heating needs of the space.
This not only maximizes efficiency but also enhances comfort levels by maintaining a consistent temperature throughout the room.
The Unique Features And Benefits Of ACiQ Mini Splits:
ACiQ mini splits come with a range of unique features that set them apart from the competition.
One standout feature is their whisper-quiet operation.
ACiQ understands the importance of a peaceful environment and has designed their mini splits to operate silently, ensuring minimal disruption to your daily activities or sleep.
Another notable feature is the built-in air purification system, which helps to improve indoor air quality by filtering out allergens, dust particles, and pollutants.
This is especially beneficial for individuals with respiratory conditions or allergies.
Aciq mini splits also offer smart technology integration, allowing you to control and monitor your mini split system from anywhere using your smartphone or other smart devices.
This level of convenience and control ensures that you can always adjust the settings to suit your needs, even when you're away from home.
Customer Testimonials And Satisfaction Rates For ACiQ Mini Splits:
ACiQ takes pride in delivering high-quality products that meet and exceed customer expectations.
Countless satisfied customers have praised the performance and reliability of ACiQ mini splits, highlighting their durability, efficient operation, and ease of use.
Positive testimonials emphasize the exceptional cooling and heating capabilities of ACiQ mini splits, as well as the long-term savings they provide in terms of energy consumption and maintenance costs.
Customers have also commended the responsive and knowledgeable customer support team at ACiQ, who are readily available to address any inquiries or concerns.
Choosing ACiQ mini splits means investing in a superior cooling and heating system that prioritizes energy efficiency, environmental friendliness, unique features, and customer satisfaction.
With ACiQ, you can enjoy optimal comfort, lower utility bills, and peace of mind knowing that you have chosen a reliable and trusted brand in the world of mini splits.
FAQs About ACiQ Mini Splits
How To Properly Install And Maintain Aciq Mini Splits?
Installing and maintaining your ACiQ mini splits properly is crucial for ensuring optimal performance and longevity. Here are some key points to keep in mind:
Professional installation: It is recommended to hire a licensed HVAC professional to handle the installation of your ACiQ mini split system.
They have the expertise and experience to ensure a safe and efficient installation.
Location selection: When choosing the location for your mini split unit, consider factors such as the size of the room, the placement of furniture, and the airflow requirements.
The installation should be done in a way that allows for optimal airflow and efficient cooling or heating.
Regular cleaning and maintenance: To keep your ACiQ mini splits in top condition, regular cleaning and maintenance are essential.
This includes cleaning the air filters regularly and removing any dirt or debris that may have accumulated.
Additionally, checking the drainage system and removing any blockages is important for preventing leaks and water damage.
Inspections and tune-ups: It is advisable to have your mini split system inspected and tuned up by a professional at least once a year.
This will help identify any potential issues early on and ensure that your system is running at its best.
Safe handling of refrigerant: If you decide to handle refrigerant yourself, make sure to follow all safety guidelines and regulations.
Improper handling of refrigerant can be hazardous and can damage the unit.
ACiQ Mini Splits Troubleshooting Guide
While ACiQ mini splits are known for their reliability, occasional issues may arise.
Here are some common troubleshooting tips to help you resolve any problems:
No power: If your mini split is not turning on, check the power source and ensure that it is securely plugged in.
Also, check the circuit breaker to ensure it hasn't tripped.
Uneven cooling or heating: If you notice uneven temperature distribution in your space, it could be due to improper airflow.
Check if the air filters are clean and free from blockages.
Adjusting the position of the louvers and checking for any obstructions can also help improve airflow.
Error codes: ACiQ mini splits are equipped with error code systems to diagnose issues.
If you see an error code on your unit's display, consult the user manual or contact customer support for further guidance.
Leaks or strange noises: If you notice leaks or unusual noises coming from your mini split system, it is best to turn off the unit and seek professional assistance.
Leaks can indicate a refrigerant or drainage problem, while strange noises may signify a mechanical issue.
Warranty And Support For ACiQ Mini Splits
ACiQ provides warranty coverage and support for their mini split systems to ensure customer satisfaction. Here are some important points regarding warranty and support:
Warranty coverage: ACiQ offers a standard warranty for their mini split systems, which typically covers parts and labor for a specified period.
The exact terms and duration of the warranty may vary, so it is essential to review the warranty documentation provided with your system.
Extended warranty options: Aciq may offer extended warranty options for those who wish to further protect their investment.
These extended warranties can provide additional coverage beyond the standard warranty period.
Customer support: ACiQ has a dedicated customer support team that can assist with any inquiries, technical issues, or warranty claims.
It is recommended to keep the customer support contact information readily available for any future needs.
Proper installation and maintenance, along with regular troubleshooting and the availability of warranty and support, are key components for ensuring the optimal performance and longevity of your ACiQmini split system.
By following these guidelines, you can enjoy efficient cooling and heating while maximizing the lifespan of your investment.
What Are The Key Features Of ACiQ Mini Splits?
ACiQ mini splits boast several impressive features, including advanced cooling and heating capabilities, smart technology integration, energy-saving options, quiet operation, and easy installation.
These features make ACiQ mini splits a popular choice for both residential and commercial spaces seeking comfort and efficiency.
Are ACiQ Mini Splits Environmentally Friendly?
Yes, ACiQmini splits are designed with environmentally friendly features.
They utilize energy-efficient technology to reduce energy consumption and lower greenhouse gas emissions.
Do ACiQ Mini Splits Come With A Warranty?
Yes, ACiQ mini splits come with a warranty to ensure customer satisfaction.
The specifics of the warranty may vary, but typically it covers parts and labor for a specified period.
Can I Install ACiQ Mini Splits On My Own?
While it's possible for some individuals with experience in HVAC systems, it is generally recommended to have a professional install ACiQ mini splits.
Proper installation ensures optimal performance, efficiency, and minimizes the risk of damage or accidents.
Where Can I Purchase ACiQ Mini Splits?
ACiQ mini splits can be purchased through authorized dealers and distributors.
These include reputable HVAC retailers and online platforms.
It's advisable to check Midea official website or reach out to them directly for a list of authorized sellers, ensuring you receive genuine products and reliable after-sales support.
Conclusion
Summing up, ACiQ mini splits prove to be a reliable and innovative choice for customers in need of air conditioning solutions.
With a commitment to quality, efficiency, and customer satisfaction, ACiQ has established itself as a prominent player in the market.
The brand's range of mini splits offers versatility, flexibility, and advanced features, ensuring optimal comfort and energy savings for residential and commercial spaces.
ACiQ's dedication to cutting-edge technology and sustainable practices sets it apart from competitors.
Whether you are seeking to cool a small room or a larger area, ACiQ mini splits deliver consistent performance, enhanced functionality, and user-friendly operation.
By investing in an ACiQ mini split, customers are guaranteed high-quality products and a satisfying experience.
Trust ACiQ for all your air conditioning needs and enjoy the benefits of superior cooling and energy efficiency. Upgrade your comfort today with ACiQ mini splits!