The musty smell that can come from your HVAC system is usually caused by mold or mildew growth in the air ducts, filters, or other components of the system. The musty odor is most often attributed to moisture and humidity levels that are too high inside the home. It can also be caused by dust and dirt buildup on parts of the unit over time.

When cleaning or repairing an HVAC system, it's important to address any areas where there may be dampness present as this will help reduce odors from coming back in the long-term. If a full cleaning isn't possible, then regular filter changes should help keep odors at bay as well.
If you've noticed a musty smell coming from your HVAC system, it could be one of two things. The first is that the air filter has not been changed recently and needs to be replaced. Over time, dirt and dust can build up on a dirty air filter, creating an unpleasant odor when the air passes through it.

The second possibility is that there is mold or mildew growth somewhere in the unit or ducts which should be inspected by a professional as soon as possible.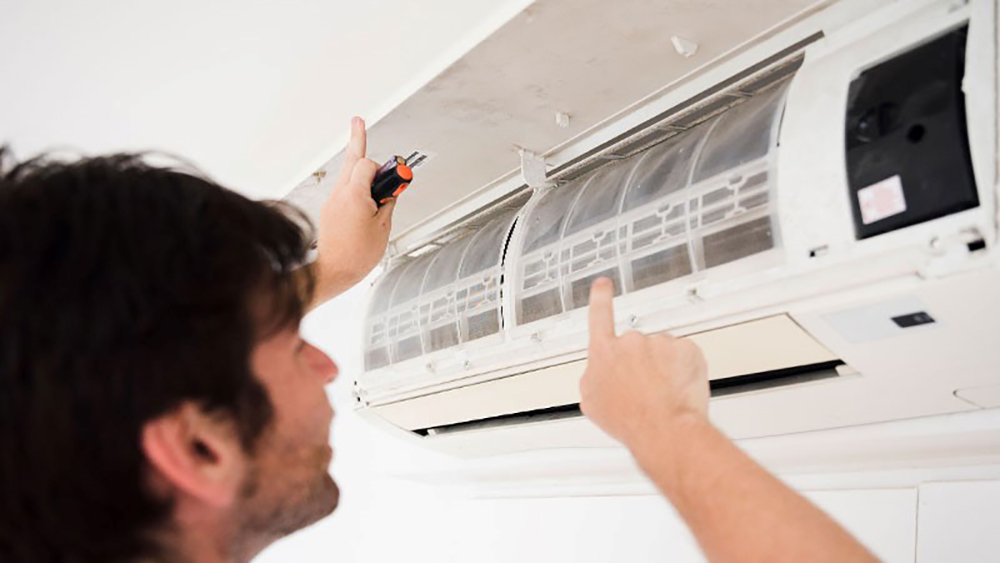 Credit: cielowigle.com
How Do I Get Rid of the Musty Smell in My Hvac System?
Having a musty smell coming from your HVAC system can be an unpleasant experience, but thankfully there are some steps you can take to get rid of it. First and foremost, start by ensuring that your air filter is changed every one to three months as this can help reduce the amount of dust, mold spores and other particles in the air which may contribute to the odor. You should also check that all vents are clear from any debris or obstructions so that fresh air is able to flow properly throughout your home.

Additionally, make sure that you're regularly cleaning or replacing any humidifiers or dehumidifiers within your HVAC system as these often trap moisture which may lead to mold growth and mildew odors over time. Finally, if all else fails then consider having a professional come out and inspect your entire system for signs of damage or buildup which could be causing the odor. With regular maintenance and care for your HVAC system you should be able to eliminate any musty smells quickly and easily!
Why Does My House Smell Musty But No Mold?
There are many reasons why your house may smell musty but no mold is present. It could be caused by a buildup of dust, pet dander or other allergens in the air that have accumulated over time and become trapped within your home's ventilation system. Mold can also create a musty odor, however if you have checked for visible signs of mold with no luck then it is likely not the culprit.

Musty odors can also be caused by humidity levels that are too high due to poor ventilation, water leaks/damage, or an old HVAC system that has not been properly maintained. Additionally, cooking smells and cigarette smoke can linger in fabrics such as carpets and curtains which will contribute to an overall musty smell in your home. To combat this issue it is important to regularly clean all vents and filters within the heating/cooling systems as well as open windows when possible to increase airflow throughout your home.

Investing in dehumidifiers may also help reduce dampness which could further reduce any unpleasant odors from lingering inside your home.
What Does Mold in Hvac Smell Like?
Mold in HVAC systems can be a serious concern. Not only can it cause structural damage to the system itself, but it can also have an unpleasant odor that lingers in your home or office space and cause adverse health effects. The smell of mold in HVAC systems is often described as musty or earthy, similar to what you might find growing on wet wood or paper.

It's usually much stronger when the air conditioner is running, since this circulates the spores through your living space. In addition to its distinct scent, other symptoms of mold growth include visible discoloration on walls, ceilings and vents; increased humidity levels; musty odors from damp carpets and fabrics; water stains on walls and ceilings; and excessive dust accumulation around ductwork and vents. If you suspect that there may be mold present in your HVAC system, contact a professional who has experience with indoor air quality services for proper inspection and remediation measures.
What causes a musty smell when switching heat to AC?
How to Remove Musty Smell from Air Conditioner
If you notice a musty smell coming from your air conditioner, the cause may be mold or mildew buildup within the unit. To get rid of this odor, start by cleaning away any visible dirt and debris in and around the air conditioner using a damp cloth. Once it is clean, use an AC cleaner specifically designed to neutralize odors and kill mold spores on contact.

Then replace your filter with a new one that has been treated with an anti-microbial agent to help prevent future growth of odors. Finally, leave the fan running for several hours after cleaning to ensure that all smells are gone before turning off your AC unit again.
Brand New Air Conditioner Smells Musty
Having a brand new air conditioner should be an exciting experience; however, if the unit smells musty then it might be cause for concern. Musty odors can indicate that there is mold or mildew present in the system due to moisture buildup caused by condensation. If you have this problem, it's important to address it right away as unchecked mold and mildew growth could lead to health problems.

To resolve the issue, make sure your AC's filters are clean and replace them regularly. Additionally, try using a dehumidifier in your home to keep humidity levels low and limit further air conditioning odor issues.
Musty Smell from Ac After Winter
When you turn on your AC after a long winter, it is not uncommon to notice a musty smell. This is likely caused by accumulated dust and dirt that has built up in the system over time, as well as mold or mildew growth inside the ducts or other parts of the unit. To eliminate this odor, be sure to clean out any visible debris from around the unit before turning it on for the season.

Additionally, consider having an HVAC professional inspect your system and make any needed repairs so that air can flow freely throughout your home again.
Window Ac Unit Smells Musty
If you notice an unpleasant musty smell coming from your window AC unit, it's likely due to mold or mildew growing inside the unit. This is usually caused by a buildup of moisture and dirt; as the air passes through the filter, spores cling to it and begin to grow. To prevent this problem, make sure that you are regularly cleaning and replacing your filters, using a damp cloth or brush to remove any dust particles.

Additionally, try setting up a dehumidifier nearby so that there is less moisture in the air circulating around your room.
How to Get Rid of Bad Smell from Air Conditioner
If you have noticed a bad smell coming from your air conditioner, there are several steps you can take to try and get rid of it. First, make sure that the air filter is clean; if necessary, replace the filter with a new one. You should also check for any water that may be leaking inside or around the unit and make sure that all drain lines are clear.

Finally, use an odor-eliminating spray or baking soda in combination with an activated charcoal filter to absorb any airborne odors in the area surrounding your AC system.
Air Conditioner Smells Like Feet
Air conditioners can sometimes develop an unusual smell that is similar to feet. This is often due to the accumulation of dirt, dust, and other debris in the air filter or ductwork of your system. To prevent this odor from occurring, it's important to regularly clean or replace your air conditioner filters and ensure that all vents are free from obstruction.

Additionally, using a dehumidifier can help reduce dampness in the home which may be causing malodorous smells.
Air Conditioner Smells Bad When Turned on
When you turn on your air conditioner, strange smells may come out of the vents. This is usually caused by a buildup of dust and dirt inside your unit. To avoid this, it's important to regularly clean or replace filters in your AC system and keep the area around the unit clear from debris.

If you still notice bad odors coming from your air conditioning system, it could be due to mold growth in the machine or ducts; if so, contact an HVAC technician for assistance right away.
Musty Smell from Ac Car
If you notice a musty smell coming from your car's air conditioning system, it could be caused by mold or mildew building up in the AC vents. This is usually due to condensation that accumulates inside the system when it has been left running for too long or not used often enough. To prevent this issue, make sure to give your car regular use and check and clean the vents regularly with an air filter cleaner.

If the smell persists after cleaning, have a professional inspect and service your AC unit as soon as possible.
Conclusion
This blog post has discussed the various causes of why an HVAC system may smell musty. From a build-up of dirt, dust and debris to mold growth due to humidity issues, there are many factors that can contribute to a smelly HVAC unit. The best way to tackle this issue is by ensuring regular maintenance checks and cleaning routines for your heating and cooling systems so you can diagnose any underlying problems before they become worse.

Taking these preventative steps will help protect your home from unpleasant odors in the future as well as ensure your HVAC system continues working efficiently for years to come.