An AC fan blowing but not cooling could be caused by a few different things. The most common cause is an issue with the compressor, either it's not working or has malfunctioned and needs to be repaired or replaced. Another possible cause could be a problem with the condenser coils, which can become blocked by dirt and debris that prevent cool air from being released into the room.

Additionally, if there is low refrigerant in the system due to leaks, this can also lead to insufficient cooling. To diagnose and fix these issues properly, it's best to have an HVAC professional inspect your unit for any problems and provide appropriate solutions.
If your AC fan is blowing, but not cooling, it could be a sign of a major issue with the system. It's important to have a professional inspect your unit as soon as possible if you're experiencing this symptom. The most likely cause for an AC fan running without cooling may be due to insufficient refrigerant levels or another mechanical failure in the compressor such as faulty wiring or worn out components.

Don't let this problem go unchecked — contact an HVAC technician right away to avoid further damage and costly repairs!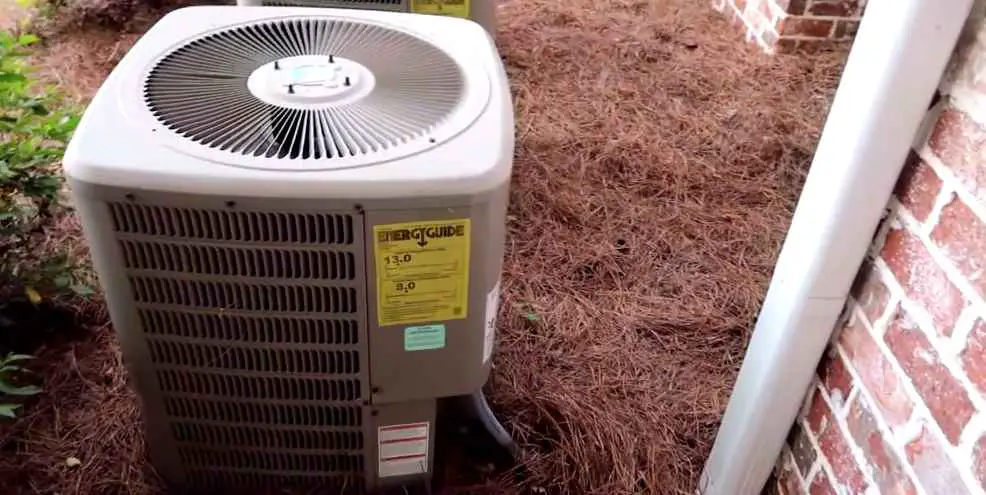 Why is My Fan Running But Not My Air Conditioner?
If you're asking yourself why your fan is running but not your air conditioner, it could be due to a few different reasons. The first possibility is that the thermostat may not be set correctly or needs to be reset altogether. If this isn't the case, then there could be an issue with the condenser unit outside of your house or apartment building, where all of the cooling components are located.

It's possible something has gone wrong inside the unit itself and will require professional assistance from an HVAC technician in order to get everything working again. Furthermore, if you have recently changed out any filters within your AC system, it's important to make sure they are installed properly and that all connections are secure – otherwise problems can occur with cooling levels and airflow.
Lastly, if none of these potential issues appear to solve the problem at hand then it's time for a service call as other parts such as capacitors or relays may need replacing which would require expertise from a certified technician familiar with air conditioning systems.
Can I Run the Fan When Ac is Not Cooling?
Yes, you can run the fan when your air conditioner (AC) is not cooling. If your AC unit is not working properly, running the fan without turning on the compressor may help to circulate cool air and provide some relief from rising temperatures in your home.
Additionally, this could be a good time to check if any filters need replacing or attend to any other routine maintenance that may be necessary before turning on the compressor again.

However, it's important to note that running the fan alone will not actually cool down your house like an AC does; rather, it simply helps spread out already-cooled air more evenly throughout a space. To ensure optimal performance of your AC system and maintain comfortable temperatures inside during hot weather months, regular servicing by an HVAC professional should be considered for ongoing troubleshooting and maintenance.
Why is My Car Ac Fan Blowing But Not Cooling?
If you've noticed that your car's air conditioner fan is blowing, but not cooling, it could be an issue with the compressor. The compressor is what helps to circulate cold air throughout the cabin of the car and when this component malfunctions, it can cause a variety of problems including warm or hot air coming out instead of cold.
Understanding why this happens and how to fix it can help you get your AC back up and running at its best in no time.

One possible reason why your car AC fan might be blowing but not cooling is because there could be a leak in one of the components responsible for maintaining pressure within the system. When there's too much refrigerant leakage, then less cold air will reach your vents which will result in warm or even hot air being blown into the cabin instead.
Another potential culprit may be due to issues with other parts such as evaporator core, expansion valve or condenser coil – all three components work together to maintain proper pressure levels so if any one is malfunctioning then you may experience similar results.

Finally, dirt buildup on these parts can also contribute to inadequate performance from the AC unit so make sure everything looks clean before attempting any repairs!
Goodman Air Conditioner Runs but Not Blowing Cold
Air Conditioner Not Blowing Cold Air But Running
If your air conditioner is running but not blowing cold air, the issue could be due to a dirty or clogged filter. If this is the case, you'll need to replace or clean your filter as soon as possible in order to restore cool airflow. Additionally, if there are any loose connections on the unit's wiring that have become disconnected over time, these should be reattached for proper functioning of the AC system.

Lastly, it's important to check for signs of a refrigerant leak – like hissing noises near your outdoor condenser – and contact an HVAC technician if one is detected.
How to Fix Ac Not Blowing Cold Air
If your AC isn't blowing cold air, there are a few simple steps you can take to try and fix the issue. First, check the thermostat settings and make sure that it is set to 'cool' mode. If this doesn't solve the problem, you should then check your indoor unit for any blockages or dirty filters that could be restricting airflow from entering the room.

Finally, if necessary, contact an experienced HVAC technician for professional assistance.
Car Ac Blowing But Not Cold
Many drivers have experienced the disappointment of their car AC blowing but not cold. This may be due to a refrigerant leak in the system, an issue with one of the components, or dirty air filters that prevent cool air from getting into your vehicle's interior. To diagnose and repair this problem, it is best to take your car to a professional who can determine what exactly is causing the issue and make any necessary repairs.
Why is My Air Conditioner Running But Not Cooling the House
Air conditioners are complex systems that must be properly maintained and serviced in order to keep them running efficiently. If your air conditioner is running but not cooling your house, it could be due to a variety of issues such as low refrigerant levels, blocked or dirty air filters, thermostat settings, or electrical problems.
It's important to contact an HVAC professional right away if you suspect any of these issues so they can diagnose the problem and make the necessary repairs before further damage occurs.
Ac Not Blowing Cold Air in House
If your air conditioner is not blowing cold air in your home, it could be caused by a number of different issues. First, you should check the thermostat settings and make sure they are set correctly. If that doesn't help, then you may need to clean or replace the filter.

Additionally, if your system hasn't been serviced recently, there might be a refrigerant leak or other mechanical issue that needs to be addressed by a professional HVAC technician.
Why My Ac Temperature is Not Going down
If your air conditioner is running but not cooling, it could be for a few reasons. The most common culprits are an inadequate refrigerant charge (causing the coils to freeze over and block airflow) or a dirty filter that is restricting airflow through the system. Sometimes, a malfunctioning thermostat can also cause this issue.

If you suspect any of these causes, it's best to contact an HVAC professional to diagnose and repair the problem quickly and safely.
Ac Not Blowing Cold Air Reset
If your AC unit is not blowing cold air, it can be due to an accumulation of dirt and dust in the filter or condenser coils. To reset your system and restore efficient cooling performance, make sure to clean out any accumulated debris from the filters and coils before turning on the power again. Additionally, check that all electrical connections are secure and tight so that there isn't a disruption in power flow.

Lastly, if these steps don't work, contact an HVAC technician for additional assistance.
Ac Not Cooling below 75
It is important to note that if your AC unit's temperature is not cooling below 75 degrees Fahrenheit, then there may be an issue with the air conditioner. This could be due to insufficient airflow, a faulty compressor or fans, blocked filters, low refrigerant levels, thermostat problems, or other mechanical issues. If you are experiencing this problem in your home or business, it is important to contact a professional HVAC technician as soon as possible so they can diagnose and repair the issue.
Conclusion
In conclusion, it is important to remember that if your AC fan is blowing but not cooling, there are a few potential causes. From simple maintenance issues such as clogged air filters or evaporator coils to complex electrical problems like faulty capacitors and motors, the best way to identify the cause of this issue is by having an experienced HVAC professional inspect and diagnose the system. With their help, you can have your AC working again in no time.