If your Carrier APU AC is not working, there are a few things you can try to troubleshoot the problem.
First, check that all power cords and switches are in the correct position and have proper electricity running through them.
If the issue persists, then inspect for any loose connections or frayed wires within the unit itself.
Additionally, examine if there is adequate airflow from the fan motor.
If it's blocked or restricted due to dirt build-up on its blades, then clean it out with compressed air.
If these steps don't resolve the issue, then you may need an HVAC technician to inspect further and replace parts as necessary.
In this blog post, we'll discuss the most common reasons why your Carrier APU AC unit may not be working, and guide you through the steps to fix it.
The Reasons behind the Carrier APU AC Not Working
A Carrier Auxiliary Power Unit (APU) air conditioning system may encounter issues that prevent it from working properly.
These issues can range from simple malfunctions to more complex problems.
Here are some common reasons behind a Carrier APU AC not working and potential solutions:
1. Electrical Problems:
Issue: Faulty wiring, blown fuses, or tripped circuit breakers can lead to electrical issues that prevent the APU AC from functioning.
Solution: Check the electrical connections, fuses, and circuit breakers. Replace any blown fuses and reset any tripped breakers. Ensure proper wiring connections.
2. Refrigerant Leaks:
Issue: Low refrigerant levels due to leaks can cause the APU AC to malfunction or not cool effectively.
Solution: If you suspect a refrigerant leak, consult a professional technician to locate and repair the leak. They will need to recharge the system with the appropriate amount of refrigerant.
3. Compressor Problems:
Issue: A faulty compressor can prevent the APU AC from cooling the air.
Solution: If the compressor is suspected to be the issue, it's best to have a trained technician diagnose and repair it, as compressor issues can be complex and require specialized knowledge and tools.
4. Air Filter Clogs:
Issue: A dirty or clogged air filter can restrict airflow and reduce cooling efficiency.
Solution: Regularly clean or replace the air filters as recommended by the manufacturer to ensure proper airflow and efficient cooling.
5. Thermostat Malfunction:
Issue: A malfunctioning thermostat may not accurately control the temperature and settings of the APU AC.
Solution: Check the thermostat settings and ensure they are correctly configured. If the thermostat is faulty, consider replacing it with a compatible model.
6. Blower Motor Issues:
Issue: A malfunctioning blower motor can result in reduced airflow and ineffective cooling.
Solution: Have a professional technician inspect and repair or replace the blower motor if needed.
7. Sensor Problems:
Issue: Faulty temperature sensors can cause the APU AC to inaccurately gauge the ambient temperature.
Solution: If temperature inconsistencies are observed, have the sensors checked and replaced if necessary.
8. Blocked Condenser Coils:
Issue: Accumulated dirt, debris, or other obstructions on the condenser coils can hinder the APU AC's cooling efficiency.
Solution: Regularly clean the condenser coils to maintain proper heat exchange and cooling efficiency.
9. Lack of Maintenance:
Issue: Neglecting regular maintenance can lead to various issues, from dirty components to worn-out parts.
Solution: Adhere to the manufacturer's recommended maintenance schedule, which may include tasks like cleaning, lubricating, and inspecting components.
10. System Age and Wear:
Issue: Over time, wear and tear can impact the performance of the APU AC system.
Solution: If the APU AC system is old and experiencing multiple issues, consider consulting a professional technician to assess whether repairs are cost-effective or if replacement is a better option.
In general, while some basic troubleshooting can be done by the operator, it's recommended to have a trained HVAC technician diagnose and repair complex APU AC issues.
Regular maintenance and addressing issues promptly can help prevent breakdowns and keep your Carrier APU AC functioning efficiently.
Why is My Carrier Air Conditioner Not Working?
If you have an air conditioner that is not working properly, it can be a major source of frustration and discomfort.
There are many reasons why your carrier air conditioner may not be working correctly.
First, check the thermostat settings to make sure they are set correctly.
If everything appears normal there, then consider checking the filters and vents for any blockages or dirt build-up that could be restricting airflow.
Make sure all the controls on your unit are in their correct positions as well.
Additionally, if you notice any strange noises coming from your AC unit or smell anything unusual such as burning plastic or wires, turn off the power right away.
Call a professional technician to take a look at it before continuing the use of the appliance.
Lastly, check if there is an issue with your electrical connections; inspect for loose wiring and tripped circuit breakers, which can often cause problems with air conditioning systems if left unchecked.
Following these steps should help determine what's causing your Carrier Air Conditioner to not work properly, so you can get back to enjoying cool comfort in no time!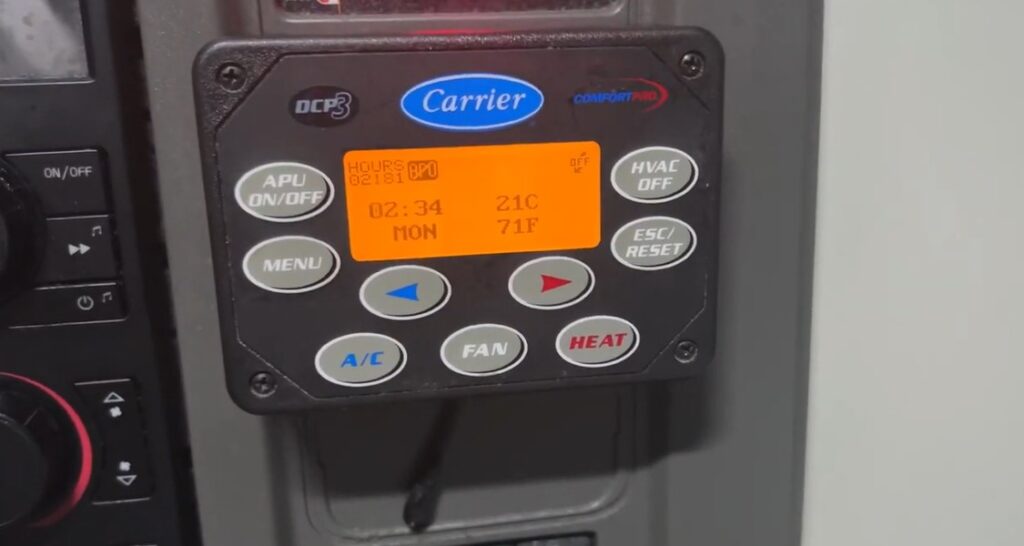 How Do I Reset My Carrier Air Conditioner?
If you're looking to reset your Carrier air conditioner, the first thing you need to do is locate the reset button.
This should be located on the side of the unit near the power cord, or it may also be located within a small access panel on the side of your air conditioner.
Once you've found this button, put your finger gently onto it and press firmly for 5 seconds until you hear a click sound.
At this point, your Carrier AC has been successfully reset and should begin to function properly again.
However, pressing this button does not seem to fix any issue that you have with your air conditioning system.
Then we recommend calling in an expert technician who can diagnose and repair whatever problem might exist with more accuracy than a DIY fix.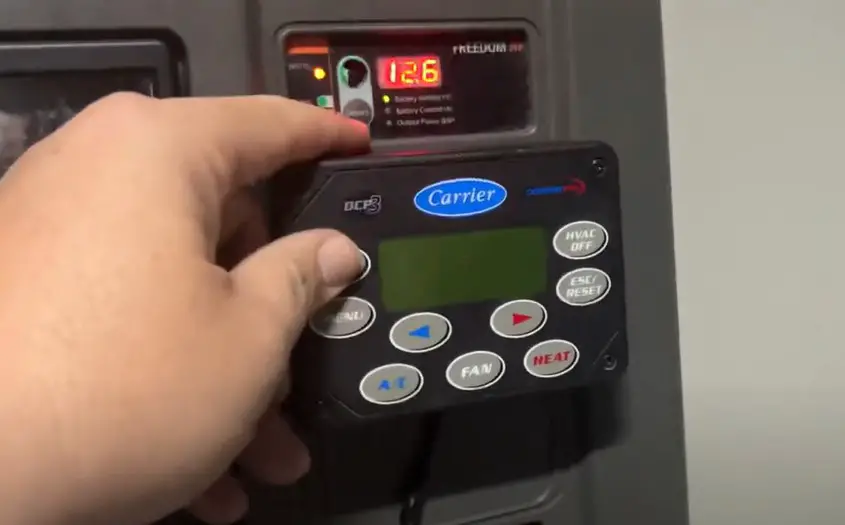 Why is My Outside AC unit Running But No Air Blowing Inside?
If your outside AC unit is running, but no air is blowing inside, there are a few potential explanations.
The most likely cause of this issue is an obstruction in the ductwork or vents that are preventing airflow from reaching your living space.
Check all of the air vents and registers, as well as any insulation around them – if they're blocked by furniture or other items, relocate them to allow for proper ventilation.
Additionally, make sure none of the vent covers are closed and inspect them for dust buildup that could be reducing its efficiency.
If you don't see any obstructions after checking these areas, then you should consider having a professional inspect the system to ensure everything else is working properly (e.g., blower motor speed).
It may also be necessary to check whether refrigerant levels have dropped over time due to leakage.
In such cases, adding more refrigerant can restore normal operation again.
In some instances where all else fails, replacing parts like fan blades or condenser coils may need to be done in order for your AC system to work correctly once more.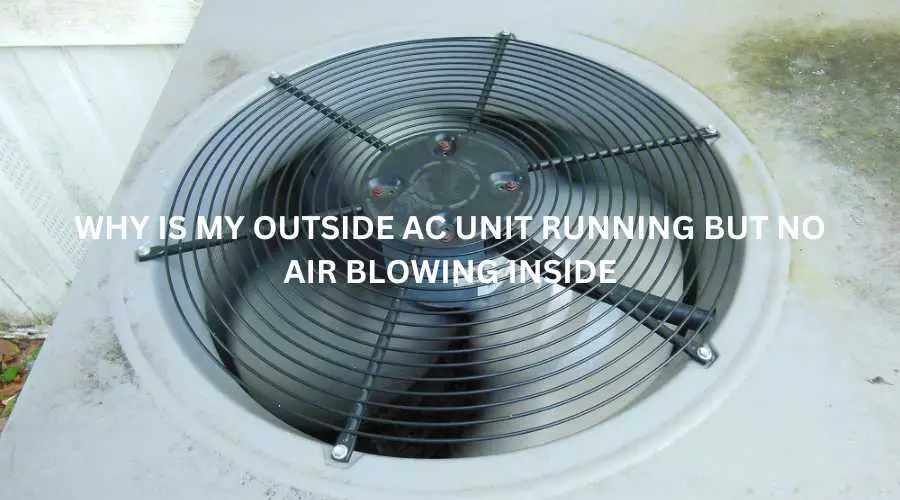 Why is My AC not Turning on But the Fan Works?
If your air conditioner is not turning on, but the fan is still running, it's likely that there may be an issue with the compressor or a related component.
The most common cause of this problem is that the refrigerant in the system has been depleted, which can happen when there is a leak in one of the AC components.
Other possible causes include dirty coils or condenser fins, clogged filters, a faulty thermostat switch or capacitor, and even worn-out wiring.
If you're having trouble diagnosing and fixing the issue yourself, then it's best to call a professional HVAC technician for assistance.
They will be able to perform a thorough inspection of your AC unit and determine what needs to be fixed in order to get it back up and running again as soon as possible!
Carrier APU Reset Button
The Carrier APU Reset Button is a useful tool for resetting the engine on your Carrier bus, truck, or trailer.
This button can be found in several different locations depending on the model of the vehicle you have.
It is usually located near the fuel filter, oil filter, or air intake system so that it can easily be accessed when needed.
By pressing this reset button, all current settings within the APU will be set back to their default values and help restore the proper operation of your Carrier's engine.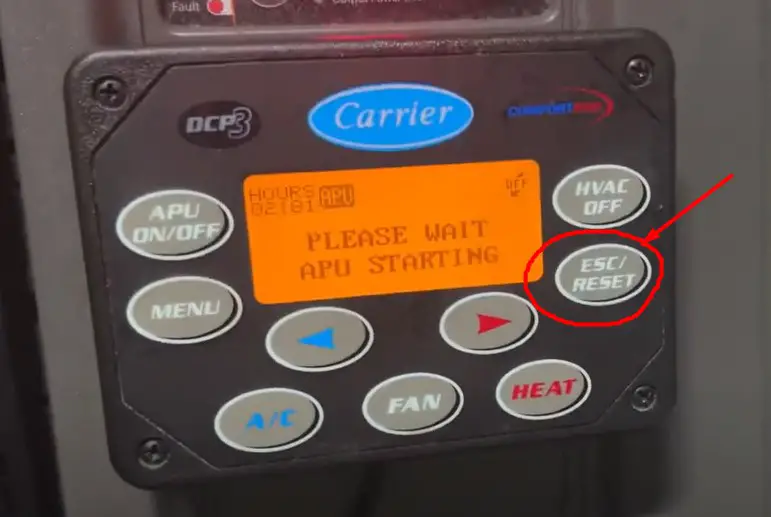 How to Reset Carrier Comfort Pro APU?
If you need to reset your Carrier Comfort Pro APU, the first step is to turn off the power switch located on the left side of the unit.
Next, locate and press firmly for two seconds on the Reset Button located at the back of your Carrier Comfort Pro APU.
Once these steps are completed, power up your system again by flipping back on its main switch, and you should have successfully reset your Carrier Comfort Pro APU!
Carrier Comfort Pro Apu Fuse Location
The Carrier Comfort Pro APU Fuse is located on the outside of the unit near the top, under a small plastic cover.
This fuse should not be removed unless absolutely necessary as it helps protect your system from power overloads and short circuits.
Be sure to consult your owner's manual for further instructions before attempting any maintenance on your APU.
Carrier Apu Not Blowing Heat
If your Carrier APU is not blowing heat, it could be caused by an issue with the fuel filter, a faulty thermostat, or a problem with the blower motor.
To determine if any of these issues are causing the lack of heat, you should contact a professional HVAC technician to inspect and diagnose the system.
It's possible that some simple maintenance or repairs may be necessary to get your heating system back up and running in no time.
Carrier Comfort Pro Apu Manual
The Carrier Comfort Pro APU Manual provides a comprehensive guide to the installation, operation, and maintenance of your air conditioning unit.
This manual includes information on troubleshooting, parts replacement, and safety precautions for using the product.
It also contains important information about understanding how best to use the Comfort Pro system in order to maximize energy efficiency while providing optimal performance.
By closely following the instructions found in this manual, you can ensure that your Carrier Comfort Pro will provide years of reliable service and cost-efficient cooling solutions.
Carrier Apu Fuse Location
The fuse box for a Carrier APU, or auxiliary power unit, is located in the engine bay near the battery.
The fuses are typically labeled and can be easily accessed by opening the hood of your vehicle.
It's important to check all of these fuses periodically to ensure that they are rated correctly and functioning properly, as any damage could result in a failure of your APU system.
Carrier APU No Power to Control Panel
If your Carrier APU is not powering on, there may be an issue with the control panel.
Check all connections to the power source and ensure that it is securely plugged in and receiving a proper amount of voltage.
Additionally, inspect any fuses or circuit breakers that could potentially be causing an interruption in the power supply.
If these are all functioning properly, you may need to contact a professional HVAC technician for further diagnosis and repair.
Carrier APU Heater Disabled by Fleet Manager
Fleet managers have the ability to disable Carrier APU Heaters on their vehicles, as part of an effort to maximize fuel efficiency and maintain safety standards.
By disabling these heaters, fleet managers can reduce idling time and improve fuel economy during cold weather.
Additionally, they prevent potential fire hazards associated with operating a heater in close proximity to flammable materials or liquids.
Although disabled Carrier APU Heaters offer advantages for fleet management, drivers may need additional clothing when operating a vehicle in colder climates.
Conclusion
It is important to understand the reasons why your Carrier APU AC is not working.
From a lack of maintenance, problems with the power source, or faulty wiring, there are many potential causes that may be contributing to this issue.
Taking a proactive approach and regularly maintaining your Carrier APU AC can help prevent future issues from occurring in the future.
If you are ever unsure what is causing an issue, it's best to contact professionals for advice and assistance.