If your air conditioner is humming but won't start, the issue may be due to a lack of power or an electrical component malfunction.
The first step to take in troubleshooting this problem is to check the circuit breaker for the AC unit.
Make sure it's switched on and not tripped.

If so, switch it back on and test if the AC starts.
If not, you'll need to check any fuses that are associated with the unit. Replace them if necessary.

You can also try checking all of your wiring connections for loose wires that might be causing a disruption in the power supply from reaching its destination – i.e., the compressor motor capacitor relay and contactor coil terminals at each end of these components should have good electrical continuity between them as well as tight wire connections along their whole length within accessible parts of your system such as disconnect boxes or junction boxes etc.
A humming sound coming from your air conditioning unit can be a sign that something is wrong.
If you notice your AC unit humming but not starting, there may be an issue with the motor or capacitor.
To diagnose and fix this problem, it's best to call a professional HVAC technician for assistance.

He or she will inspect the unit and determine if the motor needs to be replaced or if another part of the system needs repair or replacement in order for proper functioning.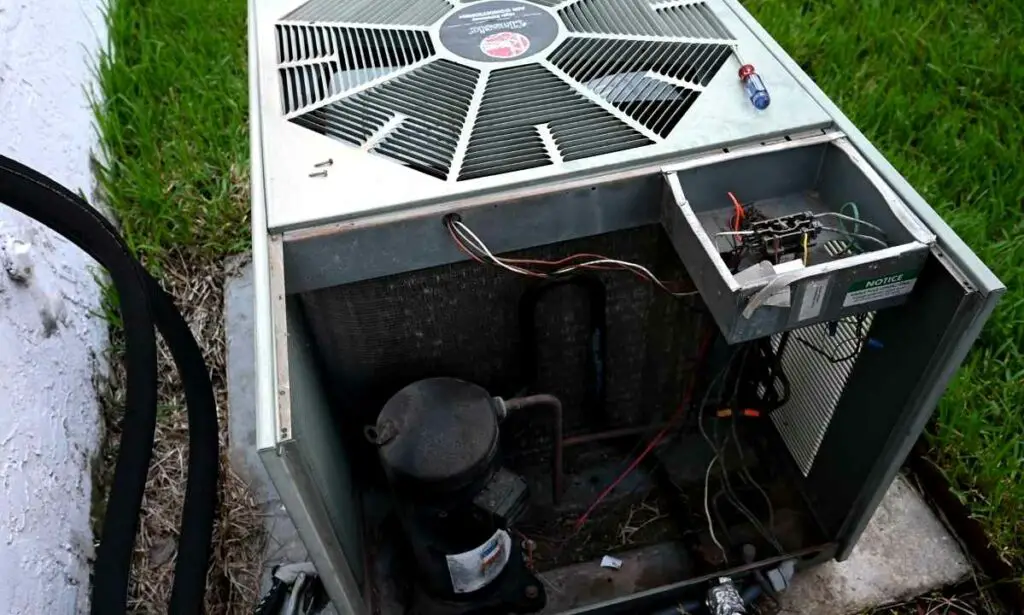 Why is My Ac Working But Humming?
One of the most common issues homeowners face with their air conditioning systems is a humming noise coming from the unit.
If your AC is working but it's making an unusual humming sound, there are several potential causes for this issue.
One possible cause of an AC unit making a humming noise could be due to a problem with the blower fan motor or its bearings.

Another potential culprit could be that one of the capacitors in your AC system has gone out and needs to be replaced.
In some cases, if there's an obstruction such as dust or dirt in your air filter, this can also cause strange noises like a hum coming from your AC unit.
Lastly, loose screws and other debris can become lodged inside your air filter causing unwanted vibrations which will produce loud sounds when running.

No matter what the underlying cause may be for why your AC is working but humming, we recommend calling a professional HVAC technician to assess and repair any necessary parts before further damage occurs to ensure optimal performance of both safety and comfort levels within your home environment.
Why Does My Compressor Hum But Not Start?
When a compressor hums but doesn't start, it could be an indication of several different issues.
The first thing you should do is check for power to the motor.
If there is no power being supplied, then the problem lies within your electrical system and requires further troubleshooting.

If power is present, then there are other possible causes that should be examined.
It's important to note that any time a compressor does not work properly or won't start at all, the safety switch must be checked before attempting any repairs or maintenance on the unit itself.
This switch may have tripped due to an overload caused by too much pressure in the cylinder head or from something obstructing its airflow such as dust and debris.

Additionally, if your air conditioner has been idle for some time or hasn't been used recently, it can sometimes take multiple attempts before it will kick on again due to low refrigerant levels in its system.
Finally, if none of these factors appear to apply to your situation then you may need to look into replacing certain components such as capacitors which control how electricity flows through the unit's motor and can cause humming when they become worn out over time.
Regardless of what issue might be causing this problem with your compressor however; professional advice should always be sought after so that proper diagnosis and repair can take place without risking further damage or injury from improper handling of potentially hazardous material like refrigerants or high-voltage wires inside an air conditioning unit.
.
Ac Compressor Tries to Start But Won'T
If your air conditioner's compressor is trying to start but won't, it could be an indication of a faulty capacitor or other electrical problem.
It is important to have the issue diagnosed by a professional technician as soon as possible so they can identify and fix the underlying cause before more serious damage occurs.
Fan Kicks on But Compressor Not Working
If your fan is running but the compressor isn't, it could be due to a variety of issues.
It may be something as simple as a tripped circuit breaker or blown fuse that needs to be reset or replaced.
Alternatively, the problem might lie with one of several components in your air conditioning system such as the condenser motor, contactor, capacitor, thermostat switch or relay switch.

If you're not sure what's causing the issue or don't feel comfortable attempting repairs yourself, call an experienced HVAC technician for service and diagnosis.
Inside Ac Unit Making Humming Noise
If you are hearing a humming noise coming from your air conditioning unit, it could be an indication that something is wrong with the compressor.
Compressor problems can cause loud and annoying humming noises and should not be ignored as they can put extra strain on other components of the AC system.
If you notice this sound coming from your AC unit, it's important to call a professional for help in diagnosing and repairing the issue before any further damage occurs.
Outside Ac Unit Making Humming Noise
If your outside AC unit is making a humming noise, it may be due to loose parts or worn out components.
It's best to contact a professional HVAC technician who can inspect the unit and determine if any repairs are needed.
If left unaddressed, this issue could affect the efficiency of your air conditioning system and result in higher energy bills.
Ac Compressor Hums Then Shuts off
The hum of an air conditioner compressor is a sign that the unit is running correctly and functioning properly.
However, if your AC compressor hums then shuts off, it could be a sign of an issue with the motor or other components.
It's important to have this checked out by a professional as soon as possible to ensure your unit stays in working order and doesn't cause further damage down the line.
Home Ac Compressor Not Turning on
If your home air conditioning compressor isn't turning on, the most likely cause is a problem with the electrical circuit that powers it.
Check to make sure there is power at the unit's breaker and if not, reset it.
If that doesn't fix the issue, you may need to contact an HVAC technician for further diagnosis and repair.
Ac Unit Buzzing Every Few Minutes
If you hear your AC unit buzzing every few minutes, this could be a sign of an issue with the compressor.
If this happens, it is important to contact a professional HVAC technician as soon as possible to diagnose the problem and make any necessary repairs.
A compressor that runs for only a few seconds at a time can cause damage to other parts of your air conditioning system, so prompt attention is essential.
Hvac Making Loud Humming Noise Heat
If your HVAC system is making a loud humming noise when running in the heat setting, it could be caused by an issue with the blower motor or fan.
The noise usually indicates that something is wrong with the motor and should be checked out immediately by a professional technician to ensure that it's not a sign of more serious damage.
Conclusion
In conclusion, a humming air conditioner is usually an indication of a problem with the unit's electrical components.
If your AC hums but won't start, you should turn off the power to the unit and contact a professional HVAC technician for help in diagnosing and fixing it.
Don't attempt to fix the issue yourself as this could result in further damage or personal injury.