If you recently purchased a Honeywell thermostat, and it is displaying a "Connection Failure" message, don't panic! This usually means that the thermostat has lost its wireless connection to the home's Wi-Fi network or is attempting to connect to an incorrect network.
You can usually resolve it quickly by resetting the device. Check the power source to make sure that your thermostat is receiving electricity, then try disconnecting and reconnecting any wires connected to it.

If this doesn't work, contact Honeywell customer service for assistance in troubleshooting the issue.
In this blog post, we will explore the possible reasons why your Honeywell thermostat says connection failure and what can you do to recover it.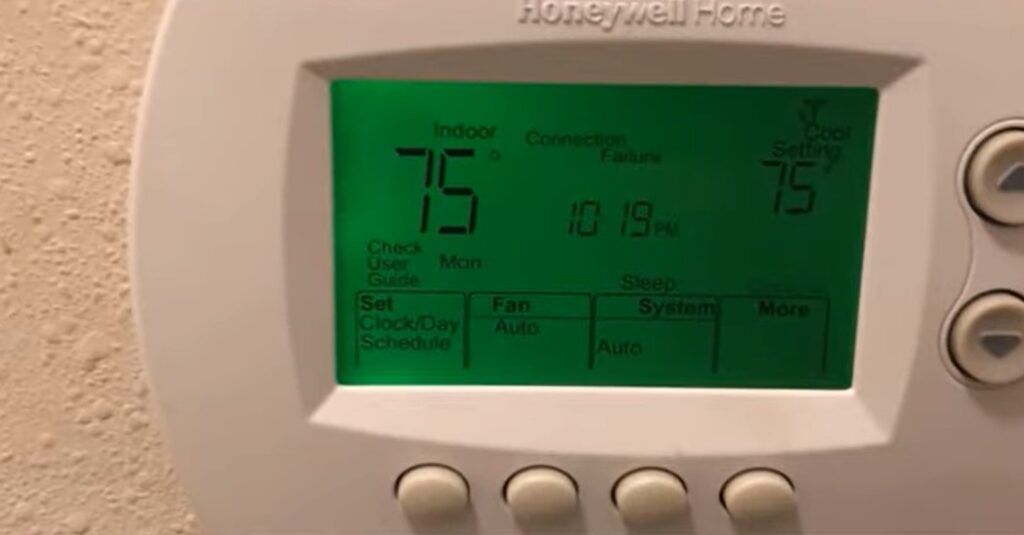 Honeywell Thermostat Says Connection Failure: The Top 8 Reasons!
The Honeywell thermostat is a reliable device, however, it can occasionally display an error message indicating a "Connection Failure".
There are several reasons why a Honeywell thermostat might display a "Connection Failure" message. This message usually indicates an issue with the thermostat's ability to communicate with the connected network or device.
Here are some common reasons and potential solutions:
1. Wi-Fi Network Issues:
Cause: The thermostat may not be able to connect to the Wi-Fi network due to weak signal strength or incorrect network credentials.
Solution: Ensure the thermostat is within range of a stable Wi-Fi signal. Double-check the Wi-Fi password and network settings entered during the setup process. Restart the thermostat and try connecting again.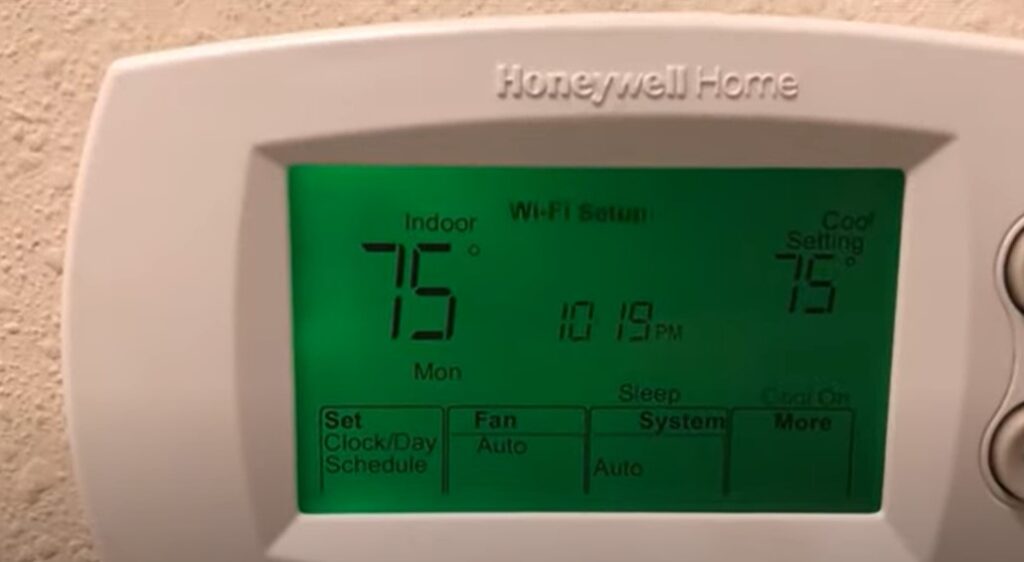 2. Network Outages:
Cause: Temporary outages or disruptions in the Internet service can lead to connection failures.
Solution: Wait for the network issue to resolve itself. If the problem persists, contact your Internet service provider to check for any ongoing network issues.
3. Router Configuration:
Cause: Certain router settings, such as firewall configurations or MAC address filtering, can prevent the thermostat from connecting.
Solution: Access your router's settings and ensure that no settings are blocking the thermostat's communication. If necessary, consult your router's manual or manufacturer for guidance on configuring settings that might be causing the issue.
4. Thermostat Software Update:
Cause: Outdated thermostat firmware may lead to compatibility issues with the network.
Solution: Check for any available firmware updates for your Honeywell thermostat. If an update is available, follow the manufacturer's instructions to install it.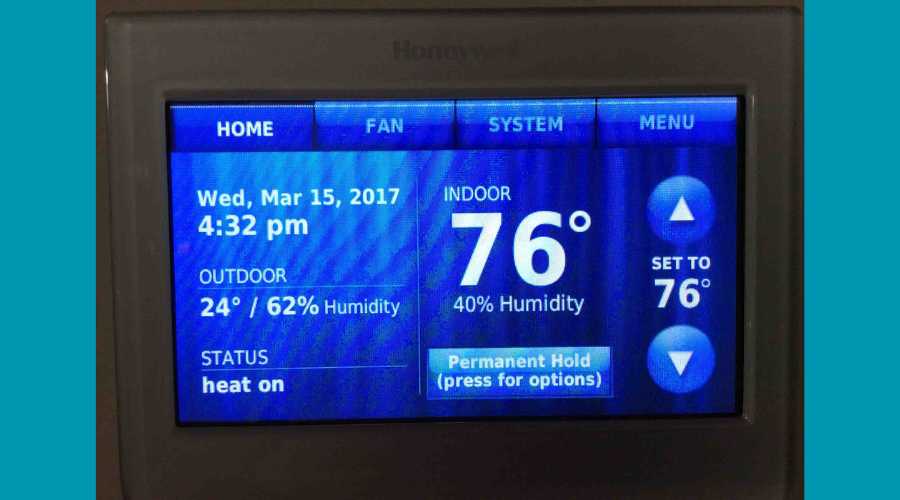 5. Network Security Protocols:
Cause: Some security protocols, such as Wired Equivalent Privacy (WEP), may not be supported by modern thermostats, causing connection problems.
Solution: Make sure your Wi-Fi network is using a modern security protocol, like WPA2 or WPA3. Update your router's security settings if necessary.
6. Interference:
Cause: Nearby electronic devices, such as cordless phones or microwave ovens, can interfere with the thermostat's Wi-Fi connection.
Solution: Identify and relocate any electronic devices that could be causing interference. Keep the thermostat away from such devices to maintain a stable connection.
7. Server Outages:
Cause: The Honeywell server that the thermostat communicates with may experience downtime or maintenance.
Solution: Wait for the server issue to be resolved. You can check Honeywell's official website or support channels for any announcements about server-related problems.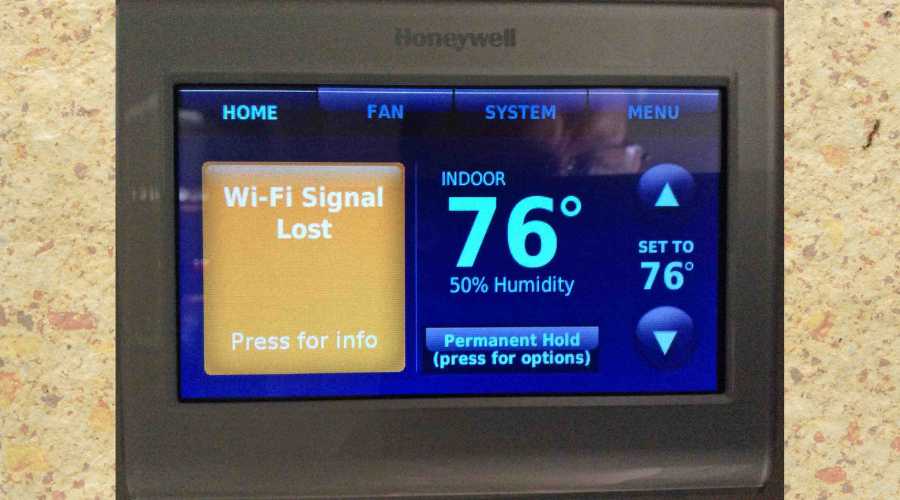 8. Power Cycling:
Cause: Sometimes, the thermostat's internal components might need a reset to establish a proper connection.
Solution: Try power cycling the thermostat by turning it off, waiting a few minutes, and then turning it back on. This can often help resolve connectivity issues.
If you've tried the above solutions and the "Connection Failure" issue persists, it's recommended to contact Honeywell's customer support for further assistance. They can provide specific guidance based on your thermostat model and the exact nature of the issue you're facing.
What Does Connection Failure Mean on Honeywell Thermostat?
Connection failure on a Honeywell thermostat can be frustrating and confusing to troubleshoot. Connection failure is usually caused by poor Wi-Fi signal strength, incorrect credentials entered into the thermostat, or an outdated firmware version.
If your Honeywell thermostat has a connection issue, this guide will help you identify the cause of the problem and provide steps for fixing it.

The first thing to do when troubleshooting connection failures is to check for any power interruptions in your home or office network. If there have been any recent outages in electricity or internet service, these could be causing an intermittent loss of connectivity on your Honeywell thermostat.
Additionally, make sure that all cables connected to the device are properly inserted and not loose at all times.

Next, verify that your wireless router is functioning correctly by connecting another device like a laptop or phone directly to it via Ethernet cable. If there are any issues with your router settings, such as incorrect channel selection or password security settings, this should allow you to determine whether or not the connection is stable.
Finally, try restarting both the router and the thermostat itself once more before proceeding further with advanced troubleshooting techniques such as resetting factory default settings or updating its firmware manually (if available).

It is recommended that you contact technical support from either Honeywell Company directly or whichever ISP provider runs your internet connection line. They may need additional information about what type of modem or router you are using in order for them to assist in better diagnosing what might be causing this persistent disconnection issue so that it can finally get resolved quickly!
What is Connection Failure E02 on a Honeywell Thermostat?
Connection failure E02 on a Honeywell thermostat is an error message that indicates the thermostat has lost its connection to the Wi-Fi network. This can happen for a variety of reasons, such as poor signal strength, incorrect passwords or settings, or even outdated firmware.
The best way to resolve this issue is to first check all of your router's settings and make sure they are correct; if they are not, then you should update them.

If that doesn't solve the problem, try restarting both devices (the Honeywell thermostat and your router). Make sure that there isn't any interference from other electronic devices in the area as well.
Additionally, you should move your router closer to the Honeywell device if possible, since it will improve signal strength and reduce connection failures.

If none of these steps work, then you may need to contact technical support for further assistance with resolving this issue.
What Does Connection Failure Mean?
Connection failure means that the connection between two systems or devices has been lost. This can happen for several reasons, such as physical damage to part of the network cable, a problem with one of the devices involved in the connection, or an issue with settings on either end.
Connection failures are incredibly frustrating and can prevent any sort of communication from taking place.

In some cases, they can even cause serious security issues if confidential data is being exchanged over unsecured connections. It's important to identify and troubleshoot these problems quickly so that users don't experience too much downtime due to a lack of connectivity.
Why Are My Honeywell Thermostats Not Connecting to Wi-Fi?
If you own a Honeywell thermostat, but can't seem to get it connected to your Wi-Fi network, then you may be wondering what the issue could be. The most common reason for this is that the connection between the router and thermostat isn't strong enough or reliable enough. This could happen if there are walls in between them or other metal objects blocking the signal, like large appliances.

To fix this issue, make sure that your router is close enough to where you plan on installing your Honeywell thermostat so that there won't be any obstruction between them. You should also check if any other devices are using up too much of your bandwidth, as this might slow down or interfere with connections.
Finally, make sure that all of the settings on both your router and thermostat are correct, so they can properly connect to each other over Wi-Fi.
How to Connect Honeywell Thermostat to Wifi?
Connecting a Honeywell thermostat to wifi is an easy and straightforward process. All you need is the Honeywell Home app, which allows you to connect your thermostat to your home's wireless network in just minutes. Once connected, you can control the temperature of your home anytime from anywhere with a few taps on the app.

You can also receive notifications when temperatures change or if there are any system errors that need attention.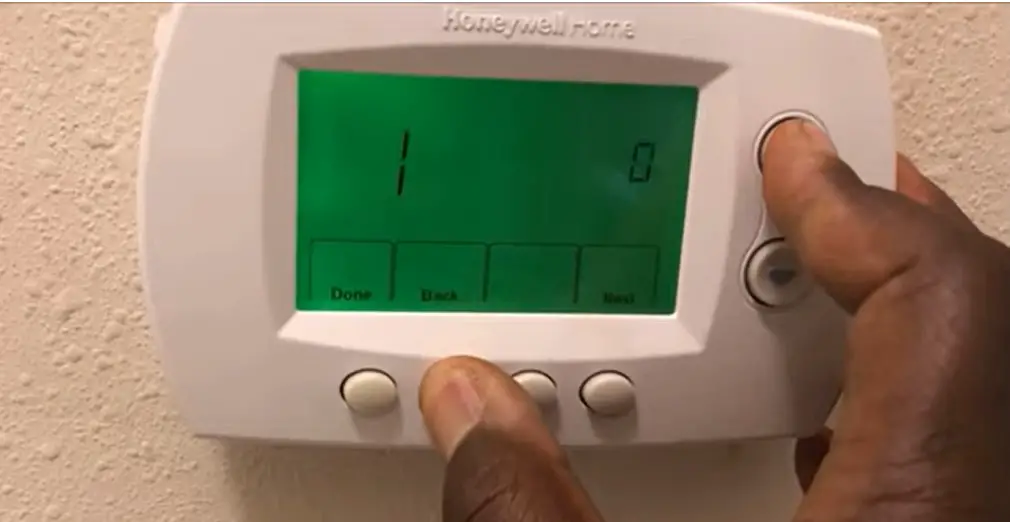 Honeywell Thermostat Stuck in Wifi Setup
If your Honeywell thermostat appears to be stuck in the Wi-Fi setup mode, you can try a few troubleshooting steps.
First, check that your router is functioning properly and that it is within range of the thermostat. If not, move your router closer or reset it using its manufacturer's instructions.

Then, double-check that you have entered the correct Wi-Fi network name (SSID) and password into your thermostat correctly.
Finally, if all else fails, contact Honeywell customer support for help with resolving this issue.
Honeywell Rth6500Wf Troubleshooting
If you are experiencing any issues with your Honeywell Rth6500Wf thermostat, it is important to troubleshoot the device in order to identify and resolve the problem.
Some common issues that can be resolved through troubleshooting include incorrect temperature settings, lack of power or Wi-Fi connection, or faulty wiring connections.
It's best to consult online resources such as tutorials and user manuals for step-by-step instructions on how to correctly diagnose your issue and then take the necessary steps for a successful repair.
Honeywell Rth6580Wf Connection Failure
If you're having difficulty connecting your Honeywell RTH6580WF thermostat to Wi-Fi, there are a few steps you can take to try and troubleshoot the problem.
First, check that the credentials you entered for your Wi-Fi network are correct and that your device is within range of the router. Additionally, make sure that all security settings on the router are enabled as they should be.

If none of these solutions solve your connection issue, consider contacting Honeywell Customer Support or an experienced technician for help resolving this issue.
Your Thermostat is Not Communicating With the Wireless Network
If your thermostat is not communicating with the wireless network, it is possible that there are some issues with either the router or modem.
The first step would be to check if the router and modem are properly connected to each other. If they are, then you should ensure that both devices have an active internet connection as well as a proper signal strength.

Additionally, make sure that the thermostat has been correctly set up for use on a wireless network and that its settings have been adjusted accordingly. If these steps do not resolve the issue, you may need to contact your service provider for further assistance.
Honeywell Thermostat Wifi Reset
If you need to reset your Honeywell thermostat Wi-Fi, it's easy to do. Simply press and hold the Reset button on the back of your thermostat for 10 seconds, or until you see a confirmation message on the display screen.
This will reset all settings to their factory defaults, including any Wi-Fi network information that was previously configured.

After doing this, you can reconfigure the Wi-Fi connection with your home router as needed.
Honeywell Thermostat Wifi Setup Rth6580Wf
Setting up your Honeywell RTH6580WF WiFi Thermostat is a breeze. With just a few simple steps, you can have the thermostat connected to your home's wireless network and control the temperature of your house from anywhere!
First, make sure that all connections are secure and that you have set up an account with Honeywell Home.

Then download the mobile app onto your smartphone or tablet device for easy access to settings and features. Finally, follow the instructions in the app to connect it to your Wi-Fi network, so you can start enjoying smarter climate control today!
Honeywell Thermostat Not Communicating With Boiler
If your Honeywell thermostat isn't communicating with your boiler, it could be due to a variety of issues. Most commonly, it is due to an incorrect wiring setup or a faulty connection between the two devices. In addition, some Honeywell models require a special adapter in order for them to properly communicate with the boiler.

If none of these scenarios appear to be the issue, then you should contact an HVAC technician, as there may be deeper problems at play that need professional attention.
Conclusion
The Honeywell Thermostat Connection Failure can be a frustrating experience for any homeowner. However, it is important to remain calm and remember that this issue can usually be resolved fairly quickly with some troubleshooting steps or professional assistance.
With the help of these tips, you should have no trouble getting your thermostat back up and running in no time!