Your house ac may not be working sometimes due to dirty air filters or a malfunctioning thermostat. Proper maintenance and checks can help to identify and fix these issues.
An air-conditioning unit is a necessary appliance that makes your living space comfortable during hot weather. But, what if your ac is not working sometimes? It can be frustrating and even problematic, especially when it happens on extremely hot days.
Some common causes of an ac unit not functioning as expected are dirty air filters, blocked or leaky ducts, malfunctioning thermostats, or refrigerant leaks. Moreover, some other factors like incorrect installation, aging components, and inadequate maintenance can also affect its efficiency. Therefore, it's crucial to conduct regular checks and schedule professional maintenance to ensure the long-term health of your air conditioning unit.
In this article, we will explore these issues in more detail and provide practical solutions that can help to resolve this problem.
Understanding Air Conditioners And Their Working Mechanism
To understand why does my house ac only work sometimes, it is essential to understand their working mechanism. Air conditioning systems are an essential part of our homes, especially during hot and humid weather. Everyone wants their air conditioning unit to run 24/7, but sometimes it only works intermittently. Understanding how air conditioners work is crucial to troubleshooting why they only function at certain times.
Here, we'll delve into the basics of air conditioning to help you identify common issues and how to fix them.
Introduction To Air Conditioning And Its Importance
Air conditioning is the process of removing heat and moisture from space to provide comfort to the occupants. It's become a necessity in modern-day living, especially in regions with high temperatures and humidity. An air conditioning unit performs this function by circulating refrigerant through a compressor, evaporator coil, and condenser.
The condenser releases the heat collected outside, while the evaporator absorbs heat from the air present inside. These actions essentially cool the air and reduce humidity levels to offer a comfortable environment.
Brief History Of Air Conditioning Technology
The idea of artificially cooling spaces dates back to ancient times, with methods such as using fans and aqueducts. However, the first mechanical air conditioner was invented by Willis Carrier in 1902. By the 1920s, air conditioning found its way into homes, and the technology has only improved ever since.
With innovations such as centralized air conditioning, ductless air conditioning, and smart thermostats, comfort has become more customizable and energy-efficient.
ABCs Of Air Conditioning And Refrigeration
To understand how air conditioners work, it's crucial to be familiar with the basic terminologies:
Air conditioning unit: A machine that cools spaces by removing heat and moisture
Refrigerant: A chemical compound used to transfer heat from one space to another
Compressor: A device that compresses the refrigerant and raises its temperature
Condenser: A unit that releases the heat collected from the refrigerant outside
Evaporator coil: A component that absorbs heat from the air indoors
Expansion valve: A mechanism that reduces the pressure on the refrigerant before it enters the evaporator coil
These are the basic building blocks of air conditioning technology that make it possible for you to enjoy cool, comfortable air on hot, humid days.
Air conditioning is a crucial part of our homes, and understanding how it functions is necessary to keep it running smoothly. By keeping these basics in mind, you'll be able to troubleshoot most issues and ensure that you get the most out of your air conditioning unit.
Why Does My AC Unit Not Blowing Cold Air?
There are several reasons why an air conditioning unit may not be blowing cold air. One possible cause could be a refrigerant leak, which can result in a lack of cooling power. Another issue could be a clogged air filter, which restricts airflow and reduces cooling efficiency.
A malfunctioning compressor or a faulty thermostat can also contribute to the problem. It is important to address any issues promptly to avoid further damage to the unit or increased energy costs.
A professional HVAC technician can diagnose and repair the problem, ensuring that the unit is functioning properly and effectively cooling your home or business.
Why is my ac in my car blowing hot air?
When your car's air conditioning system starts blowing hot air instead of providing that refreshing coolness you were expecting, it can be quite frustrating. Several factors could contribute to this undesirable change in temperature.
Firstly, a common culprit could be a refrigerant leak, causing a decline in the system's cooling capacity. Another possibility lies in a malfunctioning compressor, which is responsible for circulating the refrigerant.
Additionally, a faulty condenser or clogged expansion valve may hinder the cooling process. It is also worth considering issues like a broken blower motor or electrical glitches that prevent the air conditioning system from functioning properly.
Regardless of the specific cause, it is advisable to have a professional automotive technician diagnose and address the problem promptly, ensuring a swift return to cool, comfortable rides.
Components Of An Air Conditioning System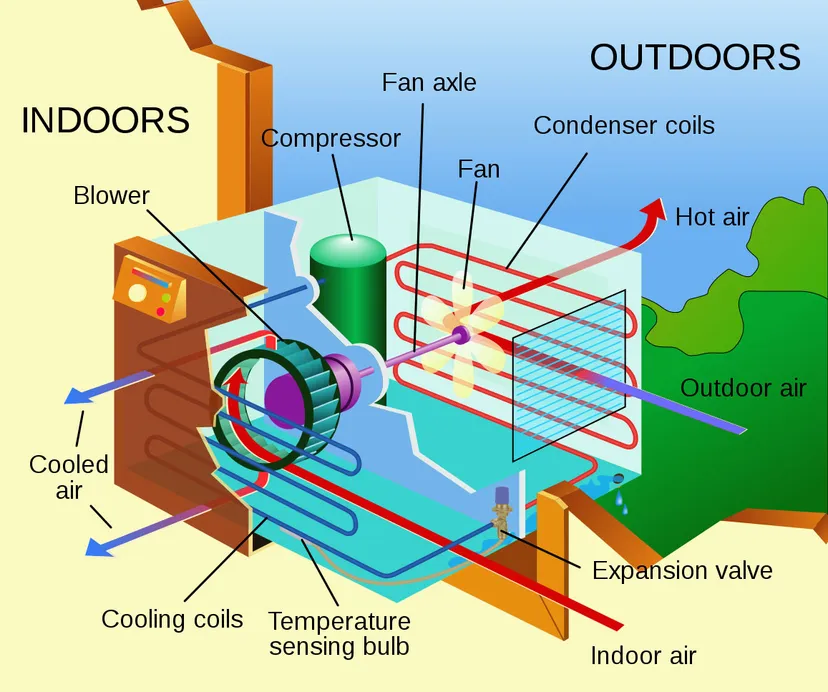 Overview Of The Parts Of An Air Conditioner
An air conditioning (ac) system has several components that work together to cool and circulate the air inside your house. Here are the main parts of an ac system:
Thermostat: The thermostat is the control panel that regulates the temperature inside the house.
Evaporator coil: This is located inside the house, and its function is to absorb the heat from the air and convert it into a gas.
Condensing unit: This component is located outside the house, and its purpose is to release the hot gas from the evaporator coil into the outside air.
Refrigerant lines: These copper tubes connect the evaporator coil to the condenser unit and help circulate the refrigerant throughout the system.
Air ducts: These are the pathways that distribute the cooled air from the ac unit to the rooms in the house.
The Role Of Each Component In The System
Each component of an ac system plays a crucial role in the cooling process.
Thermostat: The thermostat senses the temperature in the house and tells the ac unit when to turn on or off. It also allows you to set the desired temperature.
Evaporator coil: The evaporator coil removes the heat and humidity from the air inside the house and converts it into a cool and comfortable temperature.
Condensing unit: The condensing unit releases the hot gas from the evaporator coil to the outside air, bringing the temperature back down to a comfortable level.
Refrigerant lines: The refrigerant lines circulate the refrigerant throughout the system, allowing it to absorb and release heat as it travels between the evaporator coil and condensing unit.
Air ducts: The air ducts distribute the cooled air from the ac unit to the rooms in the house, providing uniform cooling.
Troubleshooting Tips For Each Component
If your ac unit is only working sporadically, it could be due to a problem with one of its components. Here are some troubleshooting tips for common issues:
Thermostat: Check that the thermostat is set correctly and that the batteries don't need to be replaced. If the thermostat is malfunctioning, it may need to be replaced.
Evaporator coil: Make sure that the air filter is clean and that there is nothing blocking the coil, such as dust or debris. If the evaporator coil is damaged or dirty, it may need to be cleaned or replaced.
Condensing unit: Check that there is proper airflow around the unit and that the condenser coils are clean. If the unit isn't receiving proper power, it may need to be connected to a working outlet or fixed by an electrician.
Refrigerant lines: Look for signs of leaks, such as hissing or bubbling sounds. If there is a leak, the refrigerant lines may need to be repaired or replaced.
Air ducts: Check that the vents aren't blocked and that the air ducts aren't damaged or leaking. If there is an issue with the air ducts, they may need to be repaired or replaced.
By understanding the components of your ac system and how they work together, you can troubleshoot any issues that arise and keep your home cool and comfortable all summer long.
Common Reasons Why AC Works Sometimes And Not Other Times
Do you ever notice that the air conditioner does not work as consistently as you expect it to? Sometimes it will work perfectly fine, and other times it's blowing warm air. This can be frustrating, especially when the weather is hot and humid.
Fortunately, there are various reasons why your ac may not be working correctly. In this section, we will discuss the most common reasons why AC works sometimes and not other times.
Dirty Air Filters
Dirty air filters can restrict the airflow through your ac system and cause it to work harder to keep your house cool. This can make the system overheat and shut down to prevent damage. In addition, a dirty filter can lead to poor indoor air quality because it traps debris, dust, and other pollutants.
To prevent this issue, change your air filters every 30-60 days, depending on your usage.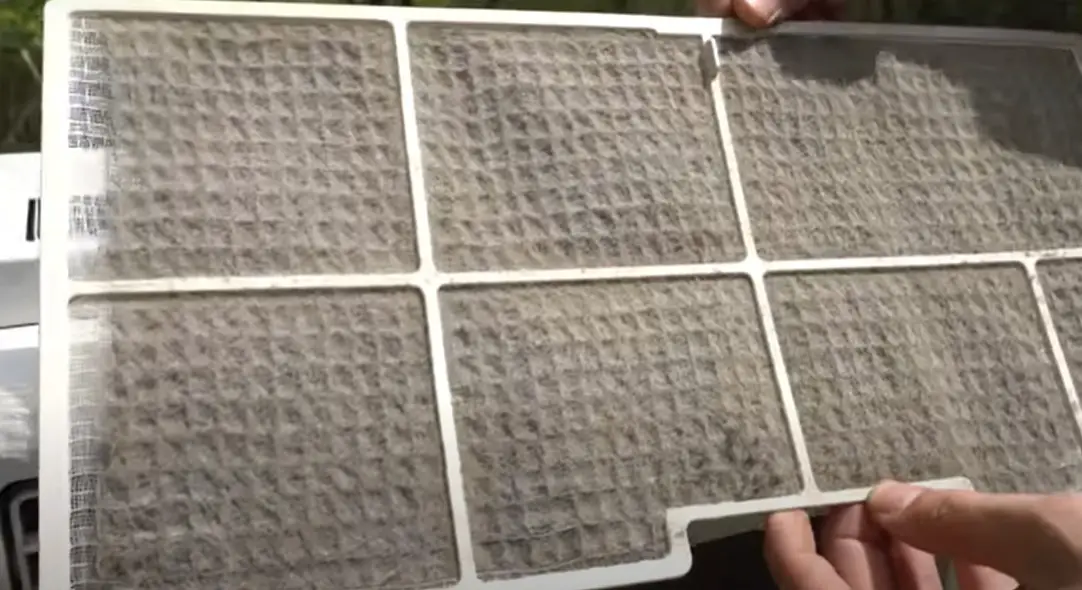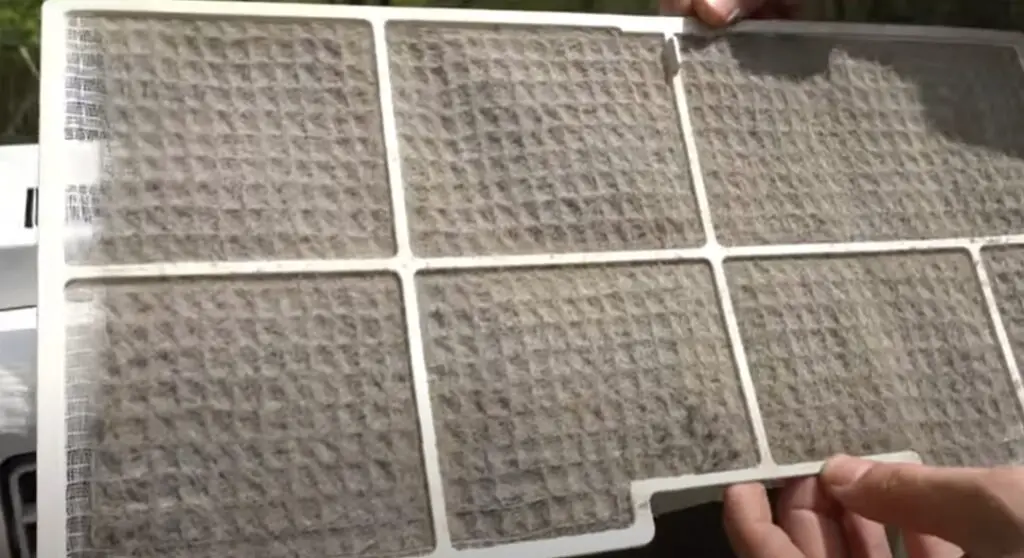 Incorrect Thermostat Settings
Incorrect thermostat settings are another common reason why ac works sometimes and not other times. For instance, if your thermostat is set to "auto," it will only circulate air intermittently. On the other hand, running your system continuously will cause it to work harder and may lead to a malfunction.
Additionally, if your thermostat is located in a hot area, it may be reading the wrong temperature and causing your system to cool incorrectly.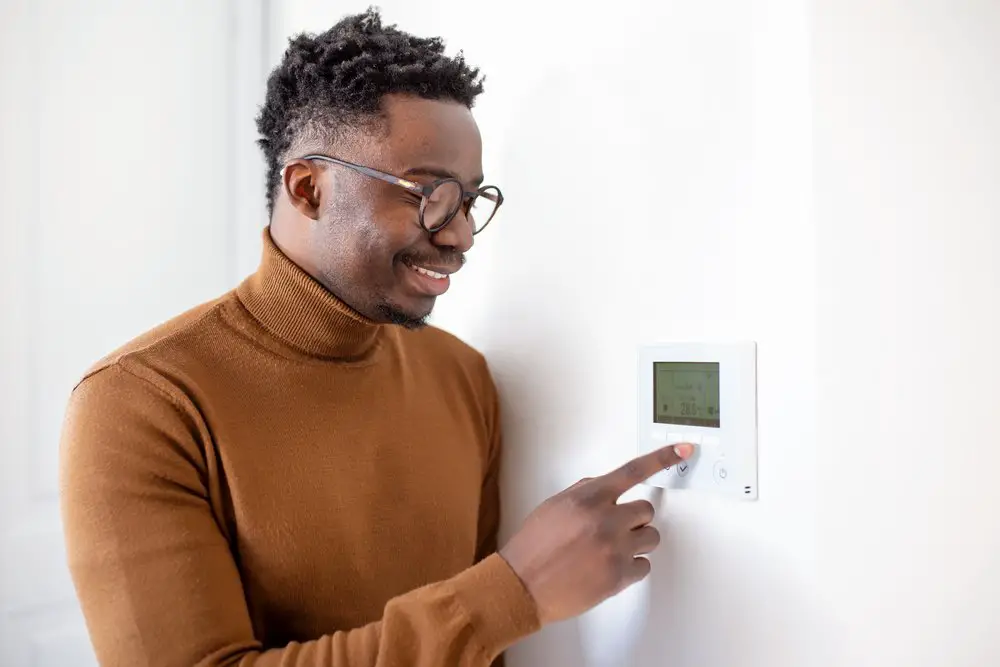 Malfunctioning Capacitor
The capacitor is a critical component of your ac system that stores electrical energy and helps the motors to start and keep running. If the capacitor is malfunctioning, your system may struggle to start, and it may cause irregular cooling.
You can identify a malfunctioning capacitor by looking for bulges or leaks on the top or sides. If you notice any of these signs, you need to contact an HVAC professional to replace the capacitor.
Clogged Drain Line
The drain line is responsible for removing the excess moisture from your HVAC system. When it becomes clogged with debris, algae, or mold, it can cause water to back up and flood your system. This can lead to water damage and even electrical malfunctions.
Signs of a clogged drain line include water stains near your ac unit, unpleasant odors, and slow water drainage. Cleaning your drain line periodically can help prevent this issue.
Refrigerant Leaks
Refrigerant leaks are a common reason why ac works sometimes and not other times. Refrigerant is a substance that absorbs and releases heat to cool your indoor environment. If there is a leak in the refrigerant lines, your system will not be able to cool properly.
Signs of refrigerant leaks include hissing sounds, warm air coming from the vents, and higher-than-normal energy bills. If you suspect a refrigerant leak, contact an HVAC technician to fix the issue.
Several factors can cause your ac system to work sometimes and not other times. Keeping your air filters clean, checking your thermostat settings, and cleaning your drain line regularly can help prevent some of these issues.
However, if you notice any signs of malfunctioning, such as warm air blowing from the vents, weird sounds, or higher energy bills, you should contact an HVAC technician immediately.
How To Prevent Common AC Issues?
Why does my house ac only work sometimes: how do prevent common ac issues?
Air conditioning (ac) plays a significant role in keeping our homes cool and comfortable during the scorching summer months. However, you might experience ac issues from time to time, such as the ac working intermittently.
Here, we will discuss how you can prevent such ac issues and ensure that your ac works efficiently throughout the summer.
Regular Maintenance Tips To Avoid Ac Issues
To prevent common ac problems, regular maintenance is crucial. Here are some tips:
Clean or replace the ac filter every one to three months
Ensure that the outdoor unit remains clean and free of debris
Keep the indoor vents clean and unclogged
Check the thermostat settings regularly
Maintain an optimal temperature and humidity level in your home
Signs That Indicate You Need To Call An HVAC Technician
While regular maintenance can prevent common ac issues, certain signs indicate that you need to call an HVAC technician for repairs. Here are some of them:
The AC is making unusual noises, such as grinding or screeching
The AC is emitting an unusual odor
The AC is leaking water
The AC is not cooling your home properly
The AC is turning on and off frequently
Tips For Choosing A Reliable Technician
Choosing a reliable HVAC technician is vital to ensure that your ac runs efficiently and reliably. Here are some tips to help you choose a trustworthy technician:
Look for experienced and certified technicians
Choose a technician who offers a warranty for their work
Check their reviews and ratings online
Ensure that the technician is licensed and insured
Get quotes from multiple technicians before choosing one
By following these tips, you can ensure that your ac works efficiently throughout the summer, without any hiccups. Remember, regular maintenance, timely repairs, and choosing the right technician are critical to keeping your ac functioning optimally.
Cost-Effective Alternatives To Repairing Or Replacing An Ac Unit
Why does my house ac only work sometimes: cost-effective alternatives to repairing or replacing an ac unit
When the ac unit malfunctions, the cooling system might only work some of the time. It is inconvenient and frustrating when you are expecting it to cool down, and the system is not working correctly. If you are facing a dilemma with your ac unit, you must decide whether to repair or replace it.
We will discuss cost-effective alternatives to repairing or replacing an ac unit, including the pros and cons of repairing vs replacing an ac unit, low-cost options for maintaining a functional ac unit, and energy-efficient alternatives to traditional ac.
Pros And Cons Of Repairing Vs Replacing An Ac Unit
When it comes to repairing vs replacing an ac unit, it's essential to weigh the pros and cons to make an informed decision. Here are some points to consider:
Pros Of Repairing An Ac Unit
Cost-effective compared to replacing a unit entirely.
Familiarity with the system.
No major installation is required.
Cons Of Repairing An Ac Unit
Temporary fix; it could break down again.
Old units have a higher probability of recurring breakdowns.
Might not help in improving the energy efficiency of the ac unit.
Pros Of Replacing An Ac Unit
Energy-efficient models lead to reduced energy costs over time.
Improved air quality.
No recurring breakdowns of an old ac unit.
Cons Of Replacing An Ac Unit
A much higher upfront investment.
Installation expenses of the new unit can add to the expenses.
As a homeowner, you may not be familiar with the new ac unit and might have to adjust to the new system.
Low-Cost Options For Maintaining A Functional Ac Unit
Maintaining your ac unit will help prevent major breakdowns. Here are some low-cost options for maintaining a functional ac unit:
Regular cleaning of the ac coils increases the efficiency of the unit.
Checking all connections and electrical components of the ac unit, ensuring they remain free of rust and corrosion.
Regular filter changes that improve air quality and overall efficiency of the system.
Regular inspection of the system to identify wear and tear before it becomes a significant problem.
Energy-Efficient Alternatives To Traditional Ac
Energy-efficient alternatives to traditional ac units are environmentally friendly, and can also significantly reduce energy bills. Here are some alternatives:
Ductless mini-split: This unit is suitable for those who want an energy-efficient system that does not require ductwork. It can reduce energy consumption by 30% compared to traditional air conditioning.
Evaporative coolers: These are cost-effective and environmentally friendly options. They cool the home by evaporating water, making them perfect for hot and dry environments.
Smart thermostats: Smart thermostats help reduce energy consumption by monitoring and controlling the temperature of the home. They can save up to 20% on energy bills annually.
Repairing or replacing an ac unit can be costly. However, following regular maintenance and exploring energy-efficient alternatives could help reduce costs and improve the overall efficiency of the ac system.
Frequently Asked Questions For Why Does My House Ac Only Work Sometimes
Why Is My AC Not Turning On Sometimes?
There could be a number of reasons your ac isn't turning on. Check if your thermostat is set low enough, if your filter is dirty, or if your circuit breaker is tripped. If the problem persists, it may be best to call in a professional.
How Often Should AC Filters Be Replaced?
Filters should be checked once a month and replaced every 1-3 months, depending on how often you use your ac and the type of filter you have. If you have pets or allergies, it's recommended that you change your filter more frequently.
Why Is My AC Not Blowing Cold Air?
If your ac is running but not blowing cold air, it may be due to a dirty filter, low refrigerant, or a faulty compressor. Check your filter and see if cleaning it helps. If not, it may be best to contact an HVAC professional to diagnose and fix the problem.
Conclusion
The cooling system of your house is a crucial aspect of your overall comfort level, and issues with it can be extremely frustrating. If your ac system only works sometimes, it could be due to a variety of reasons, ranging from dirty air filters to a malfunctioning thermostat.
It's essential to pay close attention to the signs and symptoms your ac system is exhibiting to determine the root cause of the problem. Ignoring the issue could lead to higher energy bills, an uncomfortable living environment, and even potential health hazards.
Therefore, it's crucial to hire a professional HVAC technician to diagnose and fix the problem immediately. By taking the necessary steps to maintain and repair your ac system, you can ensure that it works efficiently all year round and provides you with the comfort you need in your home, office, or any other living space.