The age of your Goodman air conditioner can be determined by using the serial number. You can find the unit's model and serial numbers on a label, usually located on the side or back of the unit. The first two digits in the 10-digit serial number indicate the year it was manufactured, so if your Goodman air conditioner has a 12-digit serial number that starts with 17, for example, then it was made in 2017.

If you have an older unit with only 8 or 9 digit codes, this method may not work as easily. In such cases, contact a local HVAC technician to inspect and assess your system's age.
In this blog post, we'll dive deep into the world of Goodman air conditioners and explore how to crack the code to determine the age of your unit. Knowing "How old is my Goodman air conditioner?" is crucial to making informed decisions about the future of the HVAC system. So, stay tuned.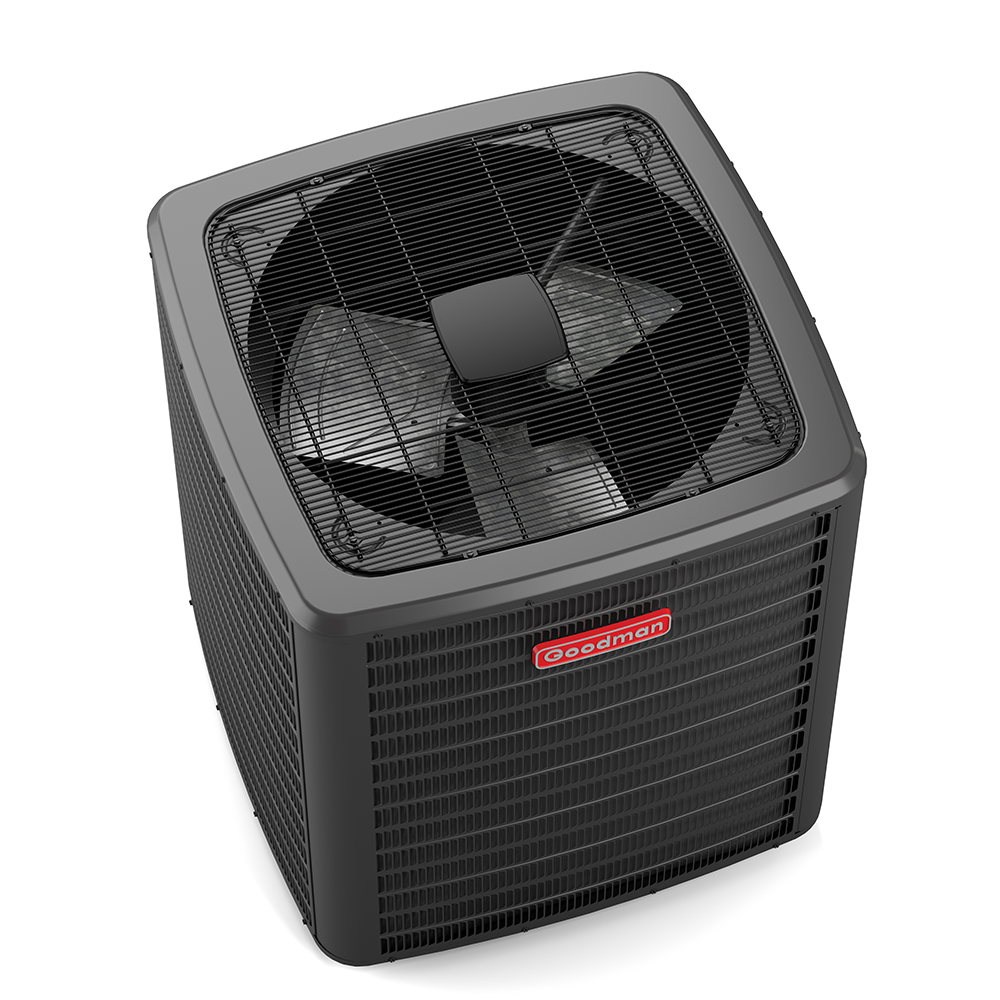 Methods Of Determining Goodman Air Conditioner Age
If you have a Goodman air conditioner, it can be difficult to determine the age of your unit. However, there are several ways that you can figure out the approximate age of your system.
Firstly, look at the serial number on your AC unit and note down the first four digits.

These usually represent the month and year in which your system was manufactured. Additionally, if your Goodman air conditioner is still under warranty, then this information should be included with the paperwork that came with it when it was installed.
Finally, if neither of these methods provides satisfactory results, then contact Goodman directly, and they may be able to help you find out how old your AC system is.
How Can I Tell How Old My Goodman Air Conditioner Is?
In order to determine the age of your Goodman air conditioner, you will need to identify the model and serial numbers located on the data plate. The data plate is usually found on the back of your outdoor unit or in an easily accessible area near it.
Once you've identified these numbers, there are a few different methods you can use to find out how old your Goodman air conditioner is.

First, you may be able to look up the information online using one of Goodman's many resources, such as their website or parts database.
Second, if that doesn't work for you, then contact their customer service team, who should be able to provide additional assistance in looking up this information for you.
Finally, if all else fails, then take note of any visible indicators, such as rusting metal components or outdated wiring, that could suggest an older unit and give a ballpark estimate about its age range based off those findings.

Ultimately, though no matter what method(s) are used, it is always important to remember that regular maintenance can help extend not only its life expectancy but also ensure its efficiency, so don't forget about checking filters regularly!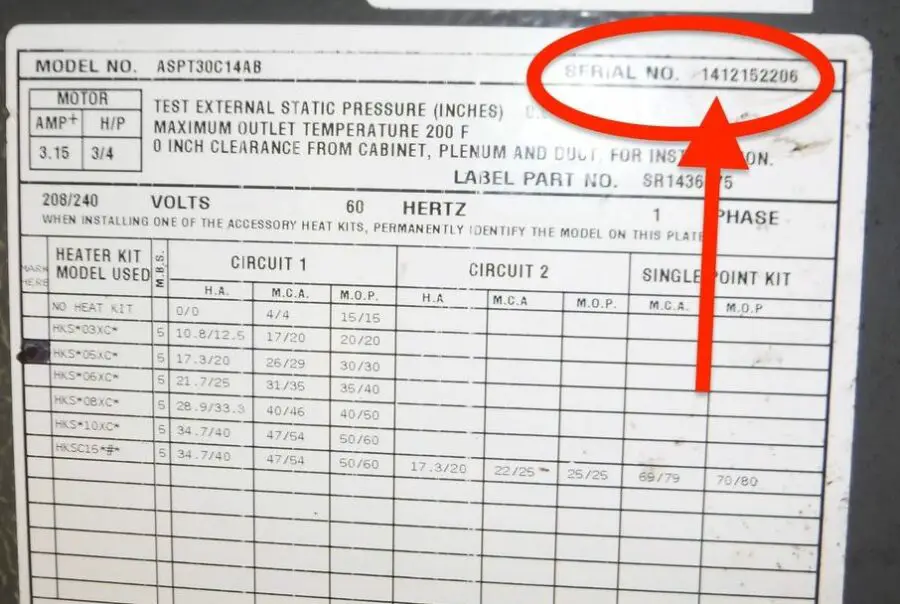 How Old is My Goodman Air Conditioner by Serial Number?
The age of a Goodman air conditioner can be determined by its serial number. To begin, you'll need to locate the unit's data plate, which lists all the relevant information about your AC, including model numbers and other specifics. Once located, record the entire serial number as it is printed on the label.

The first two digits in this string represent the year of manufacture for Goodman units made since 2003, with "03" being manufactured in 2003 and so on until the present day. For example, if your serial number begins with "20", then you know that your Goodman air conditioner was manufactured in 2020.
Additionally, prior to 2003, many models had an even shorter four-digit numerical code that needed to be deciphered differently; by noting down each digit individually and using them together as pairs – such as "1702" would mean the 17th week of 2002 – to determine when exactly it was put into the production line.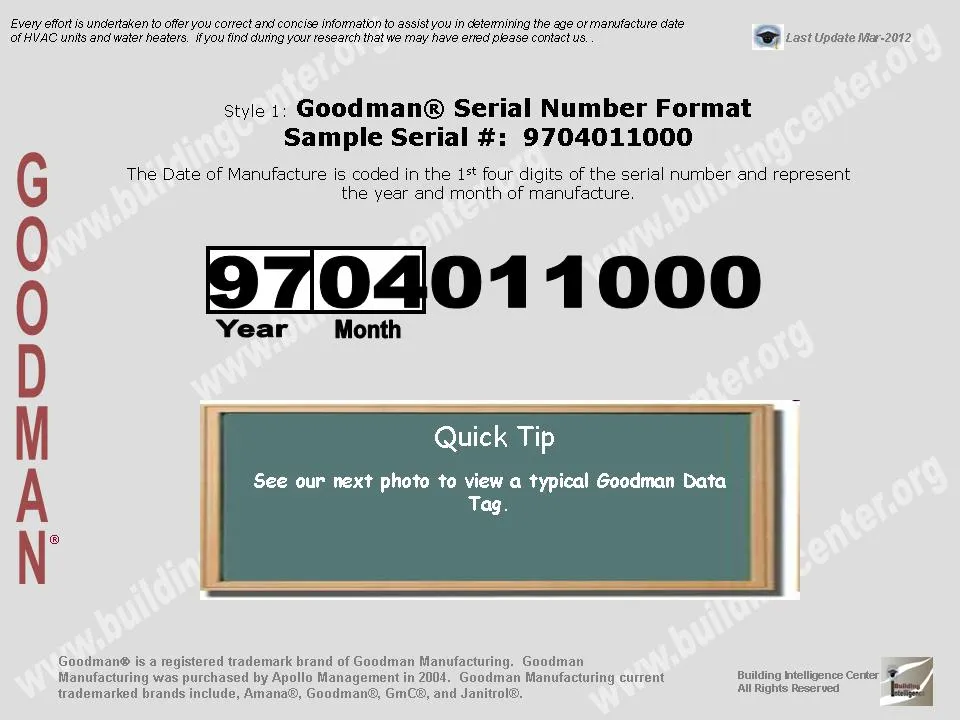 What is the Lifespan of a Goodman Air Conditioner?
When it comes to purchasing an air conditioner, you want one that is reliable and will last for many years. When it comes to Goodman air conditioning units, they have a great reputation for being both dependable and long-lasting.
The lifespan of a Goodman air conditioner can vary depending on the type of unit purchased as well as how often it is serviced or maintained.

On average, most models have a life expectancy of between 10 – 15 years with proper maintenance and servicing. It's important to note that if your unit isn't serviced regularly, then this could reduce its overall lifespan significantly!
Additionally, investing in high-quality filters and replacement parts can help keep your system running smoothly for longer periods of time.

Ultimately, Goodman provides quality products that are designed to stand the test of time – so make sure you take care of your investment by following all recommended service suggestions from the manufacturer!
How Do You Tell the Date of Manufacture from an AC Serial Number?
Determining the date of manufacture from an air conditioner's serial number can be a difficult task. Fortunately, there are some general rules that you can use to narrow down when your unit was manufactured.
The first step is to find the serial number, which is typically located on the back or side of the unit and includes letters and numbers.

Depending on the brand of air conditioner, these numbers will include information about where it was made, what type it is, its size, and other pertinent information. To decode this code, you need to know what each letter or number stands for with regard to the date of manufacturing. Generally speaking, most manufacturers use a four-digit year followed by two digits representing month and day (e.g., YY-MM-DD).

For example, if your AC had a serial number such as 1234-5678, it may have been manufactured on December 34th 2005 (120534). If all else fails, contact the manufacturer directly with any questions regarding decoding their specific units' serial numbers, as they should be able to provide more detailed information about your particular model's production date based on that data.
Goodman Serial Number Lookup Age
Goodman serial number lookup age is one of the best ways to determine how old an appliance is. The first two digits of a Goodman serial number indicate the year it was manufactured, with higher numbers indicating newer models. For example, if your Goodman unit has a serial number that begins with "17," then it was made in 2017.

Knowing your equipment's age can be helpful when trying to troubleshoot problems or considering maintenance and replacement options.
Goodman Serial Number Decoding
Goodman serial numbers are a great way to identify the age and efficiency of your Goodman air conditioning equipment. The first two digits of the serial number indicate the year in which it was made, while the last four digits provide information such as model type, size, voltage, refrigerant type, and other important details about your system.
With this information, you can easily determine if you have an older unit with outdated technology or a newer, high-efficiency model that will save you money on energy costs over time.
Goodman Serial Number Tonnage
Goodman serial number tonnage is a way to determine the size of your Goodman furnace or air conditioner. It can be found on the unit's rating plate, which is typically located inside the door or near the filter. Knowing this information allows you to accurately match your equipment with appropriate replacement parts and other components for repair work.

Additionally, it serves as an identifier that helps in determining warranty coverage and will help expedite service times if any issues arise with your system.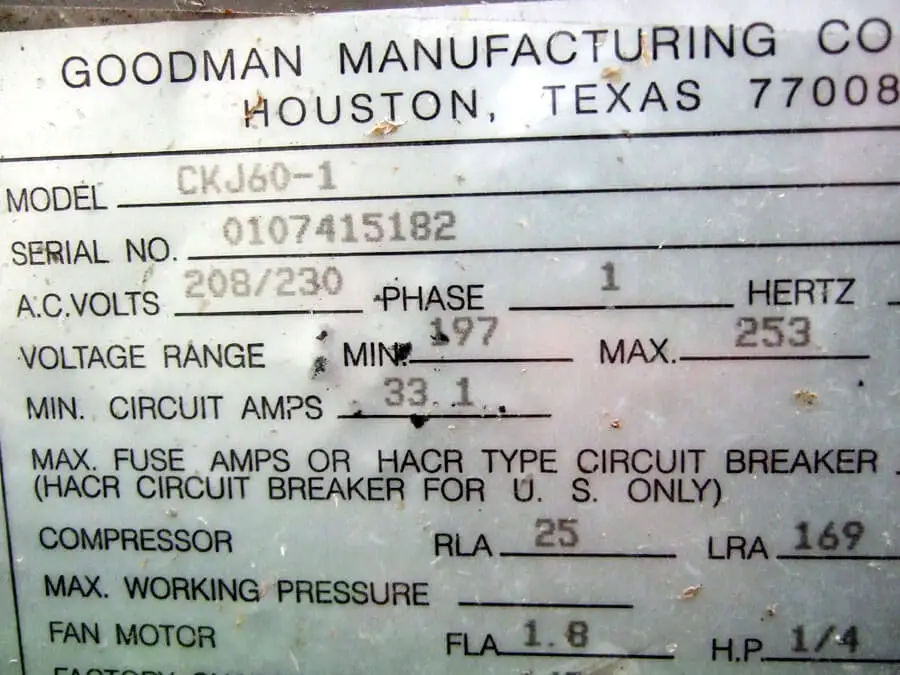 Goodman Serial Number Search
Goodman Serial Number Search is a helpful tool for homeowners and contractors to quickly identify the age of a Goodman air conditioning unit. It allows users to enter in their serial number, which will then be used to search against an extensive database and return information about the date of manufacture.
This can provide useful information when installing, servicing, or replacing Goodman units, as knowing the exact age of a unit can help technicians better diagnose issues and ensure proper maintenance.
Goodman Furnace Serial Number Decoding
Goodman furnace serial numbers are used to identify the age and type of specific Goodman products. Serial numbers are composed of a combination of letters, numbers, and symbols that can provide information about the year it was manufactured, the series number, the model number, and the manufacturing plant location.
By decoding the serial number on your Goodman furnace, you can easily determine its age and other important details, which can help you diagnose any issues quickly or find compatible replacement parts.
Goodman Warranty Lookup
If you are a Goodman customer, you can easily look up your warranty information online. By entering the serial number of your product directly into the Goodman Warranty Lookup page, you will be able to access all of the relevant details about your warranty coverage. This includes coverage length, registration date, and any other special conditions that may apply to your particular product.

Additionally, if you have any questions or need help with troubleshooting an issue, this page also provides helpful contact information so that you can get in touch with a member of the Goodman team for assistance.
Goodman Condenser Age
Goodman condensers are one of the most reliable and cost-effective air conditioning units on the market today. The age of a Goodman condenser can be determined by looking at the serial number located on the compressor, which should contain a date code indicating when it was produced.
In addition, all Goodman condensers come with a 10-year parts limited warranty from the manufacturer, so you can rest assured that your unit will last for years to come.
Goodman Nomenclature Model Number
The Goodman Nomenclature Model Number is an easy-to-understand system that identifies specific features for each of its products. This includes information on the size, type, and energy efficiency of the unit. By decoding these model numbers, you can find out more about what kind of product you're looking at before making a purchase decision.
Conclusion
In conclusion, it is important to be able to determine the age of your Goodman air conditioner so that you can have a better understanding of how well it is working and when it may need maintenance.
There are several ways to figure out how old an AC unit is, such as by looking at the serial number or checking for the date code sticker on the side of the unit.
With this information in hand, you will be able to make informed decisions about whether your AC needs repair or replacement.